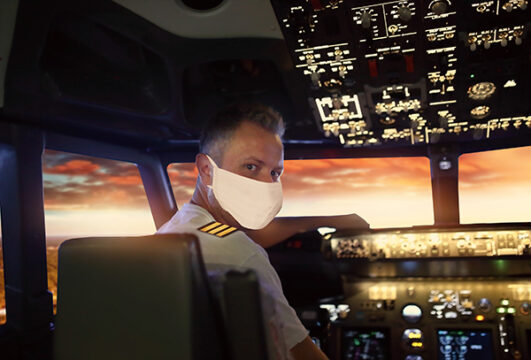 May continues under the shadow of the COVID-19 pandemic; however, in what we may all perhaps hope represents a step towards recovery, the big news this week is far more focused towards what we all might call "normal" regulatory activity, rather than the specific, focused actions related to the outbreak which have had primacy over the last several weeks. May that trend continue! In the biggest news of the week by far, PHMSA released its long-awaited HM-215O UN Harmonization final rule, which had been originally expected for publication as long ago as January of 2019. We'll address the new rule in some detail below, as well as cover the rest of the week's news. Here's the latest:       
COVID-19 Specific News
ICAO
The organization has published a new Safety Handbook with guidance on how to help manage the risk of COVID-19 in the aviation industry. According to ICAO, the guidance "outlines aspects for CAAs to consider at different stages of the pandemic." It focuses on:
assessment and prioritization of risks based on collection and analysis of data;
application of safety management principles to support risk-based decision-making; and
management and monitoring of CAA approvals in light of the flexibility needed across the aviation system to continue safe operations
The handbook is available at no cost here.
IATA
The association has updated its summary and update landing page related to the COVID-19 outbreak.  The page lists member and competent authority actions related to the pandemic. See the most recent updates here.
Other News
PHMSA
As noted above, the agency published its HM-215O UN Harmonization rule after a very lengthy genesis. There's almost certain to be something of interest for almost any Dangerous Goods professional in it, so be sure to give it a good look yourself. However, here are some highlights as a very general summary of the content:
Incorporation by Reference: PHMSA incorporates by reference the newest versions of various international hazardous materials (hazmat) standards, including recent Canadian changes
Hazardous Materials Table: PHMSA amends the Hazardous Materials Table (HMT; § 172.101) consistent with recent changes in the Dangerous Goods List of the UN Model Regulations, the IMDG Code, and the ICAO Technical Instructions. PHMSA adds, revises, or removes certain proper shipping names, hazard classes, packing groups, special provisions, packaging authorizations, bulk packaging requirements, and passenger and cargo aircraft maximum quantity limits
This HMT section also includes new and revised special provisions, some of which impact lithium batteries
Articles Containing Dangerous Goods: in a very large change to the US system, PHMSA adds a classification system for articles containing hazardous materials that do not already have a proper shipping name. This addresses situations in which hazardous materials or hazardous materials residues are present in articles, and authorizes a safe method to transport articles that may be too large to fit into typical packages.  This may have far reaching impact, since articles have always occupied something of a "gray zone" in the regulations  
Lithium Battery Test Summary: in what is sure to be the star attraction of the finalized rule in terms of generation interest in the regulated community, the agency added requirements regarding lithium battery test summaries. The HMR requires lithium battery manufacturers to subject lithium batteries and cells to appropriate UN design tests to ensure they are classified correctly for transport, and to develop records of successful test completion, called a test report. The test summary includes a standardized set of elements that provide traceability and accountability, thereby ensuring that lithium cell and battery designs offered for transport contain specific information on the required UN tests. The test summary must be made available to subsequent distributors.  However, PHMSA limits applicability to batteries manufactured after January 1st, 2008, and delays implementation of this requirement until January 1, 2022.  One should recall that this requirement is already in broad effect internationally
Baggage Equipped with Lithium Batteries: PHMSA is amending the aircraft passenger provisions for carriage of baggage equipped with lithium batteries (sometimes referred to as ''smart luggage''). Such baggage will be required to be carried in the cabin of the aircraft unless the battery or batteries are removed. This restriction in checked baggage does not apply to baggage containing lithium metal batteries with a lithium content not exceeding 0.3 grams, or lithium ion batteries with a Watt-hour (Wh) rating not exceeding 2.7 Wh
Segregation of Lithium Batteries from Specific Hazardous Materials for Air Transport: in another large change, PHMSA is adding requirements to segregate lithium cells and batteries from certain other hazardous materials, notably flammable liquids, when offered for transport or transported on aircraft
Alternative Criteria for Classification of Corrosive Materials: PHMSA is including non-testing alternatives for classifying corrosive mixtures using existing data on its chemical properties
Change is made to 173.121 regarding the assignment of certain viscous flammable liquids to Packing Group III
Provisions for Polymerizing Substances: PHMSA is extending the sunset dates for provisions concerning the transportation of polymerizing substances from January 2, 2019 to January 2, 2023
Voluntary compliance is in force now (and since January 1, 2019).  Compliance becomes mandatory on May 10, 2021, unless specific dates are otherwise indicated in the regulatory text (i.e. as per the lithium battery test summary, etc.). See the final rule right here.
The agency also published a new set of special permit actions, which cover what one might call the usual gamut of activity under such requests: they mainly focus on one-off transports, cylinders, batteries, and various tanks. See the below links for the specifics this week:
OSHA
The agency issued an ICR related to potential modification of the OSHA-7 form.  The OSHA-7 form is the standard reporting form for employees to report what they deem to be potential hazards in their workplace to the agency.  See the ICR here.
Labelmaster is a full-service provider of products, shipping and training software, and professional consulting services to assist the DG and HS&E professional to comply with national and international regulations.  See our full line of solutions at www.labelmaster.com