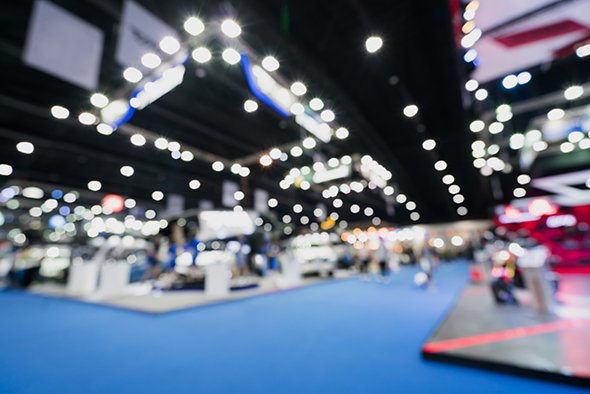 Last week, Labelmaster Senior Manager of Strategy Kristen Dapore attended the SAPPHIRE NOW conference in Orlando. Manning a booth with our integration partner SCT Software, she came away with one undeniable fact:
Businesses want one solution that brings everything together for their entire operation.
That's why SAP®—the host of the conference—is the giant it is. SAP's systems can run virtually every aspect of an organization's business, from HR to accounting to logistics.
And that's why there's never been a better time to talk about truly integrated hazmat transport software.
Opening people's eyes to a hazmat shipping solution
Dapore was at the conference to talk about Labelmaster's Dangerous Goods Information System (DGIS), which integrates seamlessly with SCT's XPS. SCT Software is a leading provider of innovative logistics execution software servicing the SAP user community.
"I had a lot of great conversations where I could expose people to fact that there is a solution for shipping Dangerous Goods that works with SAP," she says. "Most of them weren't aware of that. Many of them aren't doing hazmat compliance validation, or they are doing it manually on their own. It's great to open people's eyes."
DGIS integrates with XPS (and many other solutions) through an API, which gives users full hazmat validation and document preparation without requiring them to leave their warehouse management and transportation management platforms. No other Dangerous Goods software solutions integrate like this within SAP.
"People need a solution that keeps up with regulations, translating what's in the books to their scenarios and shipment," Dapore says. "They'd ask how long it takes to get new or updated regulations into the software. Labelmaster has a full consulting team who are engrained with government bodies, so they know about changes ahead of time and we can get them implemented by the day they come into effect.
"Other providers who have customers who ship hazmat… they know exactly why that's valuable. They say, 'Wow, you guys do this? There actually is a solution!'"
Hot topics at SAPPHIRE NOW: AI, predictive analytics and blockchain
When she wasn't talking to shippers and potential partners about DGIS, Dapore found time to attend conference sessions on logistics.
"Everyone's talking about automation and artificial intelligence," she says. "People want a unified solution, with use cases, in conjunction with predictive analytics."
Blockchain was another popular topic. Dapore says, "We've talked about it at Labelmaster, how it might come into play for hazmat transport. The discussions at the conference were more for complete processes versus just the DG portion.
"But nobody is really saying how it's going to be achieved. Several vendors had signs at their booth saying 'Blockchain ready,' but what does that really mean?"
About the overall event, she says, "It's just overwhelming. There are 20,000, maybe 25,000 people. All the vendors bring out their best—there are famous people coming to booths to give autographs, and musicians, and a motorcycle giveaway.
"SAP does everything, from accounting and HR to transportation and warehouse management. There are so many people there across so many industries, it can be challenging to hone in on those [who were] there for logistics."
Many logistics-minded attendees who spoke with Dapore about DGIS, however, discovered the solution they needed for seamless integration.
"When it clicks," she says, "it really clicks."
---
Labelmaster is a full-service provider of goods and services for hazardous materials and Dangerous Goods professionals, shippers, transport operators and EH&S providers. See our full line of solutions at labelmaster.com.