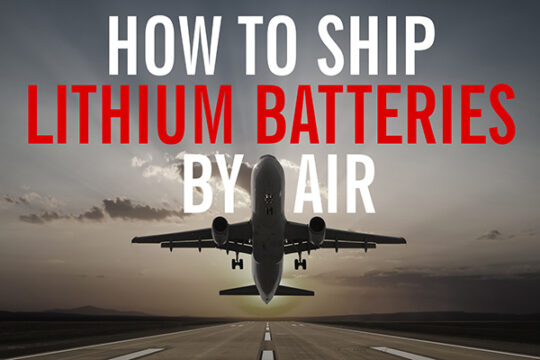 Since 2016, when the International Civil Aviation Organization (ICAO) implemented drastically more restrictive global regulations on shipping lithium batteries by air, shippers have adapted and done their best to comply. Meanwhile, regulatory agencies continue to update regulation in an effort to keep lithium battery transport by air as safe as possible.
The most recent change took effect January 1, 2022, with the removal of Section II provisions from IATA Packing Instructions PI 965 and PI 968 in the 63rd Ed. of the DGR. This revision means that all packages containing any number of standalone lithium-ion or lithium-metal batteries will be Fully Regulated shipments under Section IB of the packing instructions. See below for more details.
Here's a fully updated overview of the current air transport regulations for all types of lithium batteries and devices.
All standalone lithium batteries are prohibited as cargo on passenger aircraft.
In February 2016, the ICAO—the United Nations agency that regulates the transport of Dangerous Goods aboard international aircraft—enacted a ban on transporting standalone lithium-ion batteries (UN3480) as cargo on passenger aircraft. The ban went into effect April 1, 2016, and remains in force.
Since lithium metal batteries (UN3090) were already prohibited, the new regulation meant no standalone lithium batteries, in any quantity or packaging, could be shipped as cargo on passenger aircraft. There is still no compliant way to do so without a special permit or other approval from a competent authority.
The March 2019 PHMSA IFR harmonized United States lithium-ion battery transport regulations with those of the ICAO, along with extra requirements for ground shipments to ensure no lithium-ion batteries were loaded on aircraft contrary to the regulations. For more detail and current updates on these and other regulations, you can bookmark our Lithium Battery Resources page.
Note: These restrictions apply only to standalone lithium-ion batteries and commercial aircraft. You can still compliantly ship lithium batteries, including lithium-ion batteries, by air. See below.
The Section II provision is no longer available for standalone battery shipments.
Section II of Packing Instructions PI 965 and PI 968 was created to let shippers ship packages containing one or two small batteries by air with fewer restrictions, and by people without extensive Dangerous Goods training.
Without Section II, those shipments will be considered Fully Regulated, which means they will require:
*These labels also have to all be on the same side of the package, which will unfortunately require many shippers to use larger packaging than under Section II.
While the revised regulations eliminating PI 965 and PI 968 Section II took effect January 1, 2022, IATA is allowing a three-month transition period—so shippers may continue to use Section II until March 31, 2022.
Also, it's important to note that the Packing Instructions which govern batteries packed in or with equipment (PI 966, PI 967, PI 969 and PI 970) will still have Section II options available. Section II has only been removed for shipments of standalone batteries.
State of charge limitations and consignment and overpack restrictions still apply.
Additional restrictions on transporting lithium-ion batteries via air were implemented effective April 1, 2016, and are still in force today. These were also adopted generally "as is" by PHMSA in March 2019:
State of charge. Standalone lithium-ion batteries (UN3480) can be shipped by air only with a state of charge of 30% or less.
Packages per consignment. Shippers may not transport more than one package of standalone lithium-ion batteries prepared in accordance with Packing Instruction 965 or 968 Section II per consignment. A consignment is defined as: "One or more packages of Dangerous Goods accepted by an operator from one shipper at one time and at one address, receipted for in one lot and moving to one consignee at one destination address."
No more than one Section II lithium battery package may be placed into an overpack. Section II packages may not be offered in a unit load device and must be offered separately from other non-dangerous cargo.
While these restrictions may feel complex and burdensome, you can find quick guidelines for compliantly shipping any type of lithium batteries (by any mode) using our Lithium Battery Advisor software.
Yes, you can still ship lithium batteries by air.
It's important to remember the 2016 restrictions apply only to standalone lithium-ion batteries (UN3480) and commercial aircraft. Standalone lithium metal batteries (UN3090) are also banned from commercial aircraft. However, lithium batteries packed with or contained in equipment (UN3091 and UN3481) may still be shipped compliantly on commercial aircraft, subject to regulations.
In addition, passengers may still transport their battery-powered devices and spare batteries in their carry-on bags.
Plus, all lithium batteries may still be compliantly transported on cargo-only aircraft, subject to regulations. However, you should be aware that airlines may have variations in place that restrict lithium battery transport, even on cargo aircraft.
You can stay current on the latest regulations and variations for lithium battery transport on our Lithium Battery Shipping News page.
But remember—it's forbidden to transport damaged, defective or recalled lithium batteries by air, but they can be shipped safely and compliantly via ground in advanced Obexion battery packaging—a complete line of protective packaging for shipping lithium batteries.
Will there be new lithium battery transport restrictions?
We don't foresee any major new restrictions in the near future, but we will share news of any regulatory activity relating to lithium battery transport as soon it becomes available. Also, airlines may continue to change their variations, and certainly they may be selective with respect to which shippers they will accept lithium battery shipments from.
Meanwhile, at the direction of the ICAO, the SAE International G-27 Lithium Battery Packaging Performance Committee continues its efforts to define a standard that may allow shippers to once again transport standalone lithium batteries as cargo on passenger aircraft in the future. That standard, however, is still likely at least a year away.
For help with lithium battery questions now and in the future, call Labelmaster TOLL-FREE at 800.621.5808 or send us an email. We're here to help make sure you can ship your lithium batteries safely throughout 2022 and beyond.
Make sure your Dangerous Goods shipments are safe and in complete compliance with a full line of solutions from Labelmaster—a full-service provider of goods and services for hazardous materials and Dangerous Goods professionals, shippers, transport operators and EH&S providers.