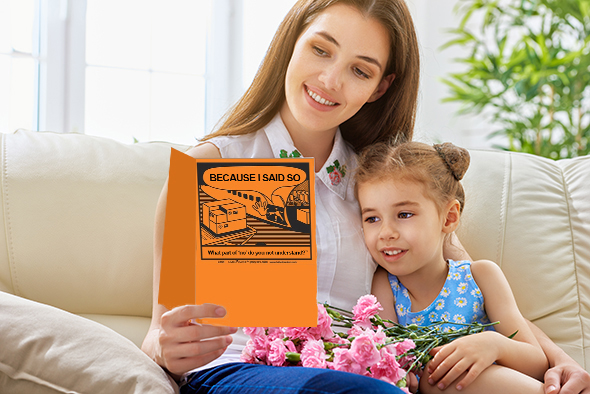 Nearly all hazmat professionals have mothers, are married to mothers or are themselves mothers. Yet to our knowledge, no one has ever has ever addressed the formative role our mothers may have played in our Dangerous Goods development, nor the critical question on everyone's minds this week:
What do I get Mom for Mothers' Day?
Hence, this first-of-its-kind Hazmat Mothers' Day Gift Guide, based on lessons each of us may have learned from our mothers.
Mom says, "You're never too old to learn something new."
But who has the time for classes? If the mom on your list happens to be a Dangerous Goods pro, get her a new online hazmat training module from Labelmaster. She can learn a new skill set (or get a three-year recertification) from the best trainers in the business, at the time and place of her convenience.
Mom says, "Because I said so!"
No one should ever question a mother's judgment. But just in case they do, get Mom the 2017 IATA DGR Manual, or even the latest version of the 49 CFR.
Mom says, "What part of 'no' do you not understand?"
Most Dangerous Goods regulations, when you get down to it, are highly complex variations on the word "no." Help Mom handle the complexity with Labelmaster's DGIS software.
Mom says, "Don't cry over spilled milk."
Avoid emotional overreactions to minor accidents with a 25-gallon spill kit caddie. What mother wouldn't be thrilled with a sturdy, wheeled kit capable of handling not just milk but fruit juice, soda and the occasional hazardous material?
Mom says, "You'll catch your death of cold!"
Get Mom a ColdMark™ freeze indicator, and she'll know when anything—a container, a package or even a grandchild—has been exposed to cold temperatures for more than 30 minutes.
Mom says, "You're not going anywhere in that outfit!"
Ever had a kid sneak out of the house before Mom can assess the day's wardrobe? Strategically mounted industrial mirrors help mothers spot kids before they reach the front door. Bonus—they're great for catching kids sneaking in, too!
Mom says, "Call me when you get there, so I know you're safe."
Mothers want everyone to have a safe trip, but accidents happen. To keep an accident from becoming a worst-case scenario, get Mom the 2016 Emergency Response Guidebook so she can quickly and accurately assess any hazmat incident.
Mom says, "Don't use that tone with me!"
A warning like that tells a kid with any brains at all that it's time to stop messing with Mom. That's why moms appreciate hazmat labels—they're the clearest, most visible warning that a package must be handled a certain way, and the penalties for non-compliance can be ugly.
Mom says, "You never write, you never call."
Mothers sometimes don't appreciate how busy a hazmat professional can be. Get Mom a subscription to the Labelmaster blog, so at least she'll be up to date on the latest news and trends in your industry. Bonus—it's free!
Mom says, "Good things come in UN-approved hazmat packaging."
Well, okay, most moms don't say that. But it would be a shame to ship your Mothers' Day gifts in anything else! Labelmaster's UN Packaging has been drop-tested, stack-tested and Cobb Water Absorption Test-tested to earn your confidence.
Happy Mothers' Day from everyone at Labelmaster!
---
Mom says, "Make sure your shipments are safe and in full compliance with a full line of solutions from Labelmaster"—a full-service provider of goods and services for hazardous materials and Dangerous Goods professionals, shippers, transport operators and EH&S providers.