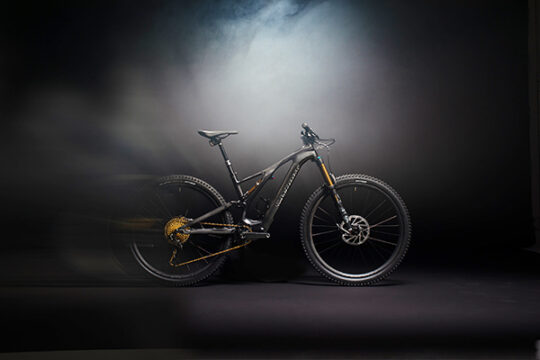 E-bikes started as a trend, quickly became a mainstream movement, and are well on their way to becoming a revolution.
They're also a major story for the Dangerous Goods community, because e-bikes are powered by large format lithium batteries.
These rechargeable batteries are fully regulated hazmat, since they carry a small but significant risk of spontaneously catching fire due to a process called thermal runaway. To keep shipments safe, organizations that manufacture, transport and/or sell e-bikes have to train their teams to label, document and package them compliantly for transport.
We spoke with Rodrigo Bustos, Warehouse Supervisor at Specialized Bicycle Components, about the growth of e-bikes and the role training plays in transporting them safely.
E-bikes are not just for fun anymore
"My commute to work is 14 miles," says Bustos, who works in Salt Lake City, Utah. "It takes 25 minutes to drive, or 35 minutes by e-bike. I save gas while I get some exercise and enjoy the fresh air."
In the last few years, millions of people worldwide have come to the same conclusion as Bustos—that an e-bike isn't just a toy for weekend fun but a viable, everyday means of transportation. With a powerful battery augmenting human power, e-bikes make hills and headwinds more manageable and let people ride further without getting as tired.
That's why the global e-bike market is predicted to grow nearly 12% a year for the next few years. In Europe alone sales will more than quadruple from 2019 to 2030, as e-bikes and electric vehicles are seen as ideal solutions to environmental challenges.
Currently, every one of those e-bikes is powered by a high-wattage lithium battery, with its inherent risks. That's why people like Bustos stress the importance of Dangerous Goods training—not just within their own organizations, but throughout their supply chains.
"No incidents, no fires, no issues"
With its extensive line of Turbo e-bikes, Specialized is one of the world's largest e-bike brands. Bustos, who's worked there since 2006, currently manages the company's international, warranty and hazmat shipping departments. The "hazmat" portion includes CO2 cartridges for on-the-go tire repair, rechargeable lights and tubular glue in addition to e-bikes.
Everyone in the operation who handles hazmat takes general awareness courses. Those who handle lithium batteries also take a multi-modal course with a live trainer, and receive certifications in lithium battery shipping.
Over the years, Bustos says, they've had "no incidents, no fires, no issues."
He believes the kind of training his teams get can also be a huge benefit for bike retailers.
"There's no better peace of mind"
Specialized distributes its street and mountain e-bikes through its authorized retailer network, who make up an integral part of their supply chain. While Bustos says, "Our work ends when the bike is delivered," Specialized does not leave retailers on their own.
Bustos says, "We provide an SDS, but no training. We also have a return program through FedEx where they get labels and packaging."
At the same time, he urges e-bike retailers to "get certified. There's no better peace of mind than knowing you are capable of handling the complexity of shipping these products correctly. The more people you have trained, the more redundancy you have to catch an error before it turns into a problem."
He adds, "Electric vehicles are the future. We're going to see e-bikes everywhere. That's why retailers need to have more people trained. The regulations get easier to handle, and the comfort and confidence help the business. It 100% helps their business grow."
Leading bike shops rely on Labelmaster's online lithium battery training courses—in English and Spanish—to prepare their teams to handle e-bikes.
Make sure your shipments are safe and in complete compliance with a full line of solutions from Labelmaster—a full-service provider of goods and services for hazardous materials and Dangerous Goods professionals, shippers, transport operators and EH&S providers.