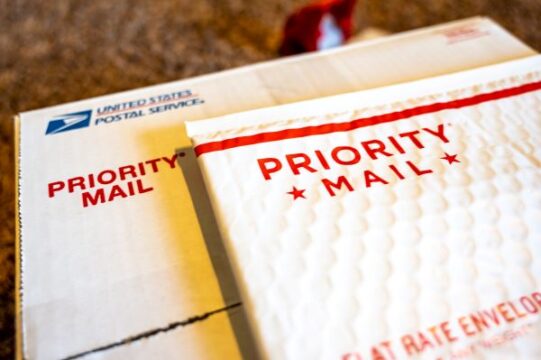 The U.S. Postal Service has announced new final rules, effective immediately, that significantly impact the shipping of lithium batteries and other hazardous materials by mail.
USPS cites "a consistent and alarming rise in incidents involving mailed packages of both lithium batteries and other hazmat, including … unlabeled or improperly labeled air-ineligible hazmat being accepted for air transportation …" as the reason for these new restrictions.
Labelmaster can help you meet these new requirements right away. Read on for more details.
New restrictions and marks for lithium battery devices
The USPS has revised its hazardous materials shipping regulations, restrictions and guidance—Publication 52, better known simply as Pub 52—to further restrict how the service accepts and transports lithium battery devices. (Standalone batteries are not subject to these new rules.)
There are two important new restrictions:
Pre-owned (i.e., used), damaged, and/or defective electronic devices may no longer be mailed by air, whether they contain or are packaged with lithium batteries. They may only be mailed via surface transportation.
All such packages must be marked "Restricted Electronic Device" and "Surface Transportation Only," in addition to all other required marks and/or labels.
Shippers impacted by these requirements will need to acquire and apply marks or labels with those two phrases. Labelmaster offers a tabbed lithium battery mark which can be personalized to include both phrases, as seen here: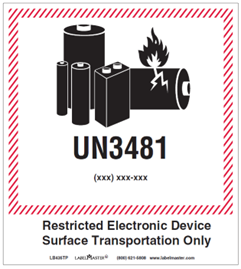 As an alternative, if you prefer to continue using ordinary lithium battery marks, Labelmaster can customize blank labels with the two phrases.
Either of these solutions will help you continue to ship lithium battery devices via the USPS in full compliance with the new rules. For a more complete explanation of the Postal Service's rules for shipping lithium batteries, please visit our USPS Publication 52 page.
Separating hazmat packages from other packages
Section 329, a new section added to Pub 52, covers the "Presentation of Hazardous-Materials Mailings." It requires shippers to "separate, into identifiable containers, all hazardous material (HAZMAT) requiring hazardous marks or labels from other mail when tendering to the Postal Service."
In other words, you now must mail packages with hazmat separately from packages that don't contain hazmat.
[There's an exception for mail entered at a Destination Delivery Unit (DDU), Destination Sectional Center Facility (DSCF), or Destination Network Distribution Center (DNDC)].
What's more, if you tender packages in containers, pallets, or other mail transport equipment, hazmat mailpieces (i.e., packages) must be presented in a separate receptacle from non-hazmat mailpieces. And you must clearly mark an exterior side of all receptacles containing hazmat with the word "HAZMAT".
USPS is also adopting related standard operating procedures for its personnel to maintain the integrity of hazmat separation.
Labelmaster Services can help you classify your shipments and determine exactly which packages you need to separate, and the most efficient means of doing so. And our blank labels can be customized as an effective solution for marking the exterior of receptacles containing hazmat.
Your top resource when regulations change
We know many of you rely on the USPS for Dangerous Goods transport, and these new regulations may be disruptive to your operations, at least in the short term. With the proper resources and assistance, we can hope they only present a temporary hiccup.
The fact is, hazmat regulations change, sometimes without much warning. That's why we offer the industry's most complete range of Dangerous Goods resources, technology and services—to make sure your organization can react swiftly to these changes and keep your operation running at full compliance and efficiency.
Have questions about these new USPS rules, or any other vexing hazmat shipping challenge? Call or email the regulatory experts at our Hazmat Hotline!
Make sure your shipments are safe and in complete compliance with a full line of solutions from Labelmaster—a full-service provider of goods and services for hazardous materials and Dangerous Goods professionals, shippers, transport operators and EH&S providers.