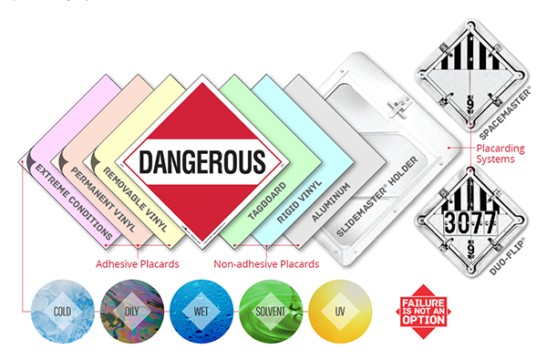 True fact: No one ever got promoted for choosing the right hazmat placard.
Choosing the wrong placard, however, could have negative consequences for anyone's job prospects.
Think about it. Every Dangerous Goods shipment represents a significant investment in time and materials, and it could be part of a supply chain impacting several organizations. Yet one placard failure—resulting in a failed inspection, a stopped or returned shipment, and very possibly a civil penalty—can make that shipment unprofitable.
Plus, imagine explaining to your customer that the shipment they were counting on is late because your placard failed.
And when you're shipping hazmat, failure is not an option.
How do Dangerous Goods placards fail?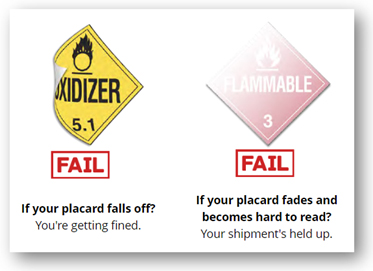 Placards seem simple. (They're a lot simpler than, say, hazmat packaging.) Yet choosing the right placard isn't as easy as some people think—and the wrong placards are a lot more likely to fail.
Some placards are right for truck trailers, but wrong for flexible bulk packaging
Some placards are perfect for short-term use, but not at all suitable for long-term use
Some placards are fine for ground shipping but wrong for maritime shipping
Some placards are right for normal conditions but will fail in harsher conditions
So how do placards fail? They fall off. Their inks run in the rain, or fade in the sun. They chip, tear or even shatter. Does it happen often? No—but even one failed placard can cost your company significantly.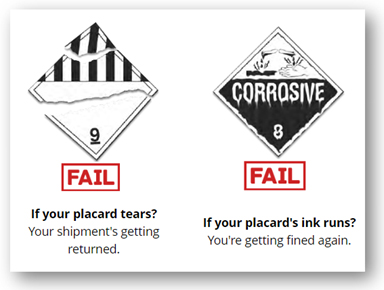 How do you choose the right placard?
To make sure you choose the right Dangerous Goods placards, you have to consider four primary factors:
Application. Where will the placard be mounted?
Duration: How long will the placard be used?
Mode: Will the placard be used for shipping by road, rail, air, sea or a combination of modes?
Conditions: Will the placard be exposed to harsh or extreme conditions?
We've created a new guide to choosing the right hazmat placard that can help you simplify the decision-making process. Here are a couple of examples of how you can make the best choice based on the above factors.
Situation #1:
Application. Truck trailer
Duration: 30 days to a year
Mode: Road
Conditions: Normal
The right placard: Removable vinyl. Tagboard is less expensive, but it's not sturdy enough to last as long as you need it to. Permanent vinyl is durable enough, but you'll spend more than you need to.
Situation #2:
Application. Portable tank
Duration: More than a year
Mode: Road
Conditions: Midwestern winter
The right placard: Extreme cold. This placard is durable enough to last a year or longer, and its special adhesive will keep it stuck to your tank at temperatures as low as -320°F. You could ship this tank to Barrow, Alaska without a second thought.
And don't forget placarding systems! Our Spacemaster® and Duo-Flip® systems save you time by letting you flip placards and change UN numbers in seconds whenever your load changes, and our Slidemaster® is the perfect frame for tagboard, rigid vinyl and aluminum placards.
The most important aspect of choosing the right hazmat placard is also the easiest—stick with the widest, most complete selection of placards in the industry.
Only Labelmaster offers you every placard you could need for every situation your shipments might possibly face. No one else has the same range of substrates in both adhesive and non-adhesive formats. No one else offers placards for so many extreme conditions. And no one else offers the convenience and reliability of our placarding systems.
Plus, no one else can offer you the experience and expertise of Labelmaster. If you have any questions about the right placards for your shipments, please call us at 800.621.5808.
Make sure your shipments are safe and in complete compliance with a full line of solutions from Labelmaster—a full-service provider of goods and services for hazardous materials and Dangerous Goods professionals, shippers, transport operators and EH&S providers.