Week of August 23rd, 2021
Linking supply chain news with dangerous goods compliance
Although still months away, businesses have a sense of urgency in preparing for the upcoming holiday shopping season, which is expected to be challenging for everyone.
Let's examine some recent industry news.
---
SUPPLY CHAIN NEWS
Three Certainties for This Year's Peak Retail Season: One year after the most volatile and disruptive peak season in recent history, the freight industry is preparing for yet another peak. Here are three predictions concerning freight markets and overall supply chain performance for the 2021 peak season.
Are We Looking at a 'Super' Peak Season?: Ports are seeing backups again as we move out of summer and into the start of the peak shipping season. Experts discuss what port congestion could mean for the air cargo industry and how transportation will have to adjust to accommodate additional cargo.
DHL eCommerce Solutions to Triple Peak Season Hiring Surge: In reaction to an ongoing surge in online shopping purchases, DHL eCommerce Solutions plans to hire 2,800 workers to sort parcels during the coming holiday peak season, more than three times the amount it hired at this time in 2020.
---
OUR PERSPECTIVE
Peak season planning is in full swing. Businesses have worked hard to navigate the supply chain challenges of the past year and a half and have already started preparing for another surge this upcoming holiday peak season. Whether it's securing transportation capacity, hiring seasonal workers or stocking up on inventory, preparation is in full swing for what is sure to be a challenging holiday season.
Holiday shipping means more dangerous goods (DG) shipments. Many of the items purchased and shipped this holiday season will be classified as DG – from laptops and power tools to makeup and alcoholic beverages. Businesses need to ensure employees handling these goods are properly trained and have proper processes in place to ensure that every shipment is compliant with the latest regulations regarding labeling, packaging and documentation.
Return season is also just around the corner. A busy holiday season for e-commerce shipping will undoubtedly lead to a surge in post-holiday returns. Effectively managing results is especially difficult when dealing with electronics and technology items that contain hazardous components, including lithium batteries. E-commerce manufacturers and distributors should start preparing now by having well-defined processes for compliant reverse logistics, because compliance gaps on returns can be costly in more ways than one.
To learn more about dangerous goods software or how to establish a safer, more compliant supply chain, visit https://www.labelmaster.com.
Have questions about dangerous goods transport? Call the Labelmaster Regulatory Hotline at 1.800.621.5808.
---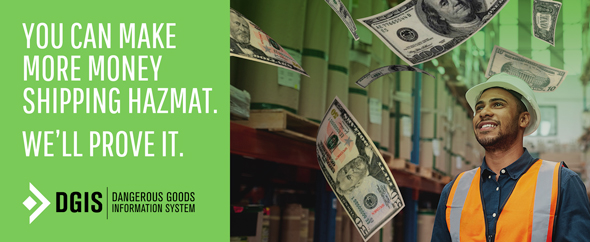 As the industry's most robust, flexible, and advanced hazmat shipping software, Labelmaster's DGIS can actually help your operation make more money. DGIS validates shipments and prepares DG declarations so quickly, you can handle more shipments every hour. And more shipments mean more revenue.
Try your own numbers in our calculator to see the added revenue DGIS can generate for you.

---