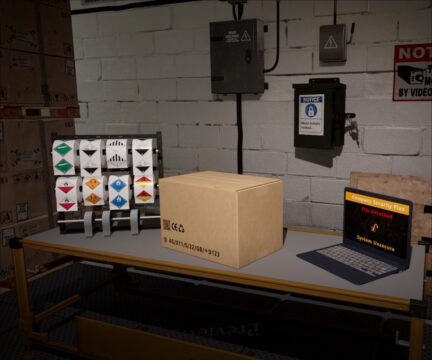 General awareness training is the foundation of all Dangerous Goods training. Virtually everyone whose job involves handling, managing or transporting hazardous materials in any way is required to take general awareness training—and renew their training every three years.
Since everyone has to take it, shouldn't it appeal to the most people?
That was the idea that led us to create the coolest, most accessible online hazmat training course ever. We believe that better training is smarter business, so our new General Awareness course isn't just game-inspired—it actually incorporates 3D game elements throughout the module.
In other words, it's fun. In fact, it's so much more fun than traditional hazmat training, you might even be tempted to call it "Dangerous Goods gaming."
Why fun matters in hazmat training
Research demonstrates that people retain more information when they enjoy the delivery method. That's why educators have long made fun part of the learning experience for kids—from Schoolhouse Rock to Dora the Explorer to Blue's Clues.
But more engaging material works better for adults as well as for kids. After all, if you're engaged, you're paying attention, and that's how you learn. And different generations learn differently. Vast numbers of newer hazmat pros are Millennials and Gen Z-ers, who generally prefer to learn through immersive, online engagement. Even seasoned hazmat pros enjoy a little fun in their training!
That's why we've made our new General Awareness course thoroughly immersive and entertaining. It still delivers all the knowledge you need—from basic definitions to hazard classes, marking and labeling to documentation, and safety data sheets to security awareness. But it reinforces that knowledge in a way that's never before been seen in the Dangerous Goods industry.
Virtual training with virtual trains
Until now, most hazmat training has followed the same basic format: Present a bunch of slides packed with information; insert a knowledge check that looks like a high school quiz; wash, rinse, repeat.
Our new General Awareness course is different. There's some straightforward information, but it also takes you inside a virtual warehouse, where you encounter different hazmat-related challenges and use your knowledge to solve them. For instance:
You're directed to a warehouse breakroom where you have to identify all 10 hazmat items scattered throughout the room.
A train pulls up outside, and you have to correctly identify or label various packages revealed when the boxcar doors open.
You find an unmarked, unlabeled package at a packaging station next to a rack of label options and other supplies. Can you correctly place marks and labels on this DG shipment?
Then you have to check different areas of the warehouse to identify safety and security risks, some obvious and others more subtle.
And all of this happens in an immersive, 3D experience that looks and feels like a visit to the Metaverse on your computer or laptop—without the clunky goggles.
More hazmat training, more 3D experiences
This new online course is the most advanced, most immersive one we've ever created—but it's not the only Labelmaster training module to feature an interactive, 3D experience. You can also enjoy a game-inspired knowledge check on these essential courses:
We developed the 3D experience that accompanies these courses because better training is smarter business, and better-trained hazmat workers keep the entire supply chain safer.
That's why we've made our new General Awareness course feel more like "Dangerous Goods gaming" than Dangerous Goods training. You'll enjoy it more, you'll remember more of what you learn, and the world will be just a smidge safer. Talk about a win-win!
Make sure your shipments are safe and in complete compliance with a full line of solutions from Labelmaster—a full-service provider of goods and services for hazardous materials and Dangerous Goods professionals, shippers, transport operators and EH&S providers.