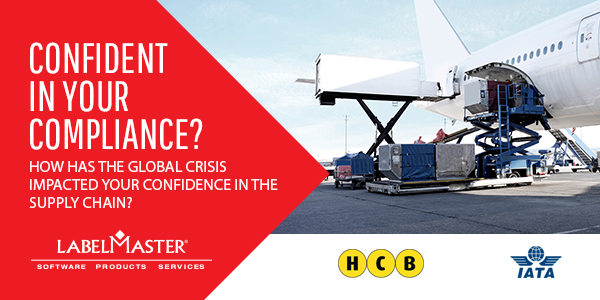 The last few months have demonstrated that we have an extraordinarily robust and resilient supply chain. Despite the greatest global disruption in generations, most consumer goods are still available and most industries have been able to maintain production.
Dangerous Goods organizations and their workers have more than done their part to keep the global supply chains moving. Yet there's no question this crisis has shed light on weaknesses as well as strengths in the industry's ability to keep shipments safe and compliant. Will these challenges lead to changes in how organizations support Dangerous Goods management?
Those are the questions that will be answered by the 5th annual DG Confidence Outlook.
What is the DG Confidence Outlook?
The DG Confidence Outlook is the definitive survey of the Dangerous Goods industry—a collaborative effort created by Labelmaster, Hazardous Cargo Bulletin (HCB) and IATA. It's the only global industry source that highlights the challenges and attitudes of DG pros about supply chain DG management.
Each year, this survey takes the pulse of the professionals who keep the hazmat supply chain compliant—trainers, shippers, carriers, manufacturers and regulators from every continent on the planet. It examines challenges with supply chain partners, global harmonization, data and technology, and each year's results help DG pros secure the support they need from their organizations to make compliance and safety a top priority.
This year, the survey focuses on the key challenges companies have had during the pandemic maintaining safe and compliant supply chain operations:
Training remotely
Communications
Regulatory changes
Companies new to the DG supply chain
And more
Questions also explore how organizations may begin to support DG management differently in the long term.
We need your input! Your responses are anonymous, and we'll share the results in about six weeks.
Please take a few minutes to add your voice to the 5th annual DG Confidence Outlook!
Survey details & methodology
All questions were developed by Labelmaster, Hazardous Cargo Bulletin and IATA.
This survey is open to all DG pros and is not limited to Labelmaster customers, subscribers of HCB media or IATA members.
This survey is promoted within Labelmaster, HCB and IATA marketing properties as well as within press releases.
This survey, data and results are copyrighted by Labelmaster, HCB and IATA, and will be analyzed to appear in a variety of Labelmaster, HCB and IATA stories, material and events.
Make sure your shipments are safe and in complete compliance with a full line of solutions from Labelmaster—a full-service provider of goods and services for hazardous materials and Dangerous Goods professionals, shippers, transport operators and EH&S providers.