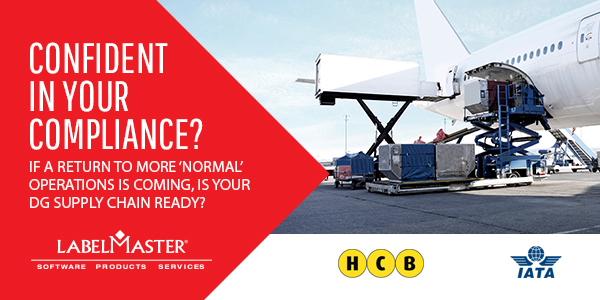 How often do you get to influence the direction of your entire industry?
If you're a Dangerous Goods professional, now's your chance. Participate in the 6th annual DG Confidence Outlook, and your voice can resonate throughout the hazmat supply chain.
"By participating in this survey, you get a voice to possibly make changes in the industry and perhaps within your company," says Labelmaster Vice President Rob Finn. "The results of this survey get real visibility with global regulatory bodies like PHMSA and IATA, and the data has helped DG pros move the needle with their organizations on how they view DG management."
What is the DG Confidence Outlook?
The DG Confidence Outlook is the definitive survey of the Dangerous Goods industry—a collaborative effort created by Labelmaster, Hazardous Cargo Bulletin (HCB) and IATA. It's the only global industry source that highlights the challenges and attitudes of DG pros about supply chain DG management.
Each year, this survey takes the pulse of the professionals who keep the hazmat supply chain compliant—trainers, shippers, carriers, manufacturers and regulators from every continent on the planet.
This year, as you might expect, we'll be taking stock of the Dangerous Goods landscape after a year of dealing with a global pandemic. How has COVID-19 changed the industry's priorities? Has your organization made the right moves to stay competitive? Are your training, technology and overall compliance a sound foundation for future growth in "the new normal"?
"The industry's only source"
The survey's results can be powerful—several DG pros have said they've been able to use past surveys to convince their management of necessary changes.
"We've asked Dangerous Goods pros what they need to help communicate with their management about getting more resources, and they've told us they need data about global DG management and logistics," says Finn.
"This survey is the industry's only source for that kind of data."
We need your input! Your responses are anonymous, and we'll share the results in about six weeks.
Please take a few minutes to add your voice to the 6th annual DG Confidence Outlook!
Survey details & methodology
All questions were developed by Labelmaster, Hazardous Cargo Bulletin and IATA.
This survey is open to all DG pros and is not limited to Labelmaster customers, subscribers of HCB media or IATA members.
This survey is promoted within Labelmaster, HCB and IATA marketing properties as well as within press releases.
This survey, data and results are copyrighted by Labelmaster, HCB and IATA, and will be analyzed to appear in a variety of Labelmaster, HCB and IATA stories, material and events.
Make sure your shipments are safe and in complete compliance with a full line of solutions from Labelmaster—a full-service provider of goods and services for hazardous materials and Dangerous Goods professionals, shippers, transport operators and EH&S providers.