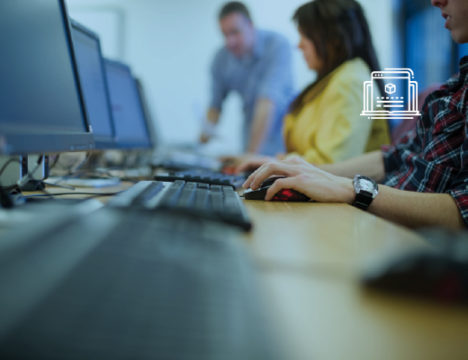 On January 1, 2023, new IATA provisions will come into effect that mandate a competency-based training and assessment (CBTA) approach for Dangerous Goods training.
What is CBTA, and what does it mean for your operation? That's why we're here!
Competency-based training has been a hot topic of conversation for several years in the hazmat shipping community. (For a recent example, you might enjoy these 2022 Dangerous Goods Symposium sessions—part 1 and part 2—or you could attend our upcoming Ask the Expert session.) While many see it as a welcome evolution in training methodology, others have found the concept confusing, or even intimidating.
With a deadline less than two months away, keep reading to cut through the confusion—and avoid the intimidation.
What is competency-based training and assessment (CBTA)?
IATA regulations require that everyone involved with overseeing, preparing or handling Dangerous Goods shipments for air transport be trained to perform their functions. The regulations also mandate that training be recertified every two years.
Competency-based training and assessment is a new framework for that training. It's really an evolution in how we think about training—and a means to make hazmat shipping safer.
Here's how IATA describes the concept
Conventional dangerous goods training is typically designed around the job title and is subject-matter driven. Competency-based training is designed to ensure that personnel can perform the function for which they are responsible.
Competencies describe what a competent person's performance on the job should be: "a combination of skills, knowledge and attitudes required to perform a task to the prescribed standard."
A critical feature of competency-based training is continuous assessment to ensure training is efficient and effective in order to provide the skills, knowledge and attitudes required to perform the function.
So what does that mean? One simple explanation is that traditional training is based on job titles, but CBTA is based on job function. So, for example, if ground service providers perform some functions related to air transport of Dangerous Goods, their personnel must be trained to perform those functions compliantly competently regardless of their job titles.
(For more insight on competence and compliance, watch this on-demand webinar.)
Another difference is that traditional training tends to focus on course content, while CBTA concentrates on people's actual functions and responsibilities.
CBTA is a systematic method based on three principles:
Identification of the key competencies and skills to be achieved
Determination of the most effective way of achieving these competencies
Establishment of tools for valid and reliable assessment measurement
By standardizing the means to ensure people are competent to perform their functions in compliance with IATA regulations, CBTA promotes more efficient operation, a higher level of regulatory compliance, and greater safety for everyone in the Dangerous Goods supply chain.
What CBTA means for your operation
First of all, you should note that this change only applies to air shipping. U.S. operations who only ship by ground or ocean don't have to change anything about their training—yet. (Canadian operations, however, do have to institute CBTA, as it's also going into effect under the TDGR.)
Furthermore, if you and your teams have undergone traditional IATA training over the years, you might read the definitions and goals of CBTA and think, Hmm, that doesn't sound all that different from what we do now.
You wouldn't be entirely wrong. Learning all the details of Dangerous Goods regulations—and being tested on that learning—does help ensure people are competent to apply those regulations. In addition, most operations provide hands-on training to make sure people are competent to perform their functions. So what does CBTA require that you're not already doing?
In application, the difference between traditional training and CBTA comes down to two factors:
Identifying, validating and evaluating the competencies of your operation. CBTA requires you to spell out exactly what functions your people need to be competent at, then verify that your training makes them competent to perform them.
Assessment—the "A" in CBTA. Traditional training relies on simple testing to demonstrate competency, but CBTA requires ongoing assessment to ensure that people not only understand the subject matter but also have the required skills and knowledge to carry out their functions.
Okay—you're probably wondering—but what's going to happen when I get inspected? What will I need to do to prove that my training programs meet these CBTA standards?
And the answer is … we don't know yet. Even in Europe, there is no formal training, benchmarks nor written guidelines for inspectors about how to enforce CBTA.
In Canada, inspectors in the field may employ various types of assessment methods to verify competency—visual observations, requests for a demonstration of a job function, simulations, structured interviews, and/or written exams.
For the time being, U.S. inspectors will most likely continue to look at your training records and content to ensure that you're meeting all regulatory standards.
So the simple answer is to simply keep doing what you're doing. But smart Dangerous Goods operations should begin to view their training through a CBTA lens—identifying competencies and assessing how well training addresses them. Because the time may not be too far off when even U.S. inspectors will demand proof that your employees are competent to perform their actual functions.
How Labelmaster can help your training meet CBTA standards
We offer the most complete, most engaging library of online hazmat training courses in the industry, including no fewer than five lithium battery training courses and our new multi-modal training courses that bundle ground, maritime and air training for convenience and cost savings.
Are they enough to meet CBTA standards? Probably not.
Online courses can teach and test regulatory knowledge, but not the full range of competencies employees may need to demonstrate specific to their job functions. Ultimately, every hazmat shipping operation owns the responsibility of determining their employees' competencies and what type of additional training will be required to meet their specific needs.
You'll also need to determine the best way to assess your people's competence. Our base online courses offer knowledge checks, tests and even a 3D virtual experience that lets people practice what they learn, but you might need other types of assessment.
Our Labelmaster Services experts can help you determine competencies, develop training to address them, and establish assessment methods. We can also create customized CBTA modules that build on our base courses, and give you an overall CBTA program that includes safety training.
We'll partner with you to evaluate your employees' needs and required competencies for defined job functions, then tailoring online training modules to meet them.
Complying with IATA's new competency-based training and assessment won't be a heavy lift for most U.S. operations. But you should make the effort, anyway, because training your employees on their complete competencies—and continually assessing how well they meet them—can only make your operation more compliant, more efficient and safer.
And if you need help, we're here for you.
Make sure your shipments are safe and in complete compliance with a full line of solutions from Labelmaster—a full-service provider of goods and services for hazardous materials and Dangerous Goods professionals, shippers, transport operators and EH&S providers.