Week of July 26th, 2021
Linking supply chain news with dangerous goods compliance
Increasing consumer demand and expectations is having a tremendous impact on the global supply chain. As a result, businesses are begun making major changes to their operations in order to keep pace.
Let's examine some recent industry news.
---
SUPPLY CHAIN NEWS
Smart Warehouses Expand to Deliver on Rising Consumer Expectations: Savvy e-commerce customers, spoilt for choice when it comes to expecting faster and more efficient deliveries, are driving the growing investment in smart warehouses, with automation increasingly inbuilt to help keep up with the demand that is unlikely to abate any time soon.
Online Shopping Trends are Here to Stay: The pandemic has raised the bar for retailers, who need to satisfy lasting demand for free shipping and make strides toward sustainability goals, consumer survey shows.
Tomorrow's Supply Chain: Five Steps to the Future of Fulfillment: Consumers today expect enhanced speed and convenience, along with greater transparency around orders and shipping. After becoming acquainted with these services, people are less understanding when firms fail to meet their requirements. In response, brands have upgraded their capabilities at pace.
Poll: Consumers Support Delivery of Spirits: A new poll indicates that nearly 80% of consumers support allowing distillers to ship spirits directly to consumers as activists push for the expansion of direct-to-consumer shipping laws for spirits.
How Covid-19 Changed Retail — Probably Forever: As a key driver of transformation in retail over the last decade, e-commerce was already growing rapidly. Then the Covid-19 pandemic happened, which aggressively fueled company digitalization and the flight to e-commerce and triggered major shifts in consumer shopping behaviors — changes that I think are here to stay.
---
OUR PERSPECTIVE
It's all about the consumer. With the growth of e-commerce has come increasing demands and expectations from consumers – for faster delivery, wider product selection, easy returns, and much more. This trend will continue to put pressure on supply chains and force businesses to make big changes in order to attract (and keep) customers and differentiate themselves in an increasingly competitive market.
Consumer shifts lead to supply chain shifts. Adapting to changing consumer behavior and demands isn't simple and, in many cases, requires changes to several (or every) part of the supply chain. Whether it's shipping a wider range of products, building more warehouses, having environmentally-responsible shipping practices, implementing faster fulfillment practices, or all of the above. But each one of these changes requires additional processes changes in order to maintain a safe, compliant and smooth supply chain.
Compliance's fingerprints are everywhere. For companies shipping dangerous goods (whether it's paint, nail polish or lithium batteries) compliance plays an important role in every aspect of the supply chain, and cannot be overlooked. Businesses selling new products need to understand the shipping and packaging requirements. Building new warehouses may require compliance training for new workers. Shipping to new countries may require additional documentation or permits. When making supply chain decisions, consider if your DG management operations will help facilitate those changes or be a bottleneck to being able to meet the growing needs of your customers, and put your business at risk.
To learn more about dangerous goods software or how to establish a safer, more compliant supply chain, visit https://www.labelmaster.com.
Have questions about dangerous goods transport? Call the Labelmaster Regulatory Hotline at 1.800.621.5808.
---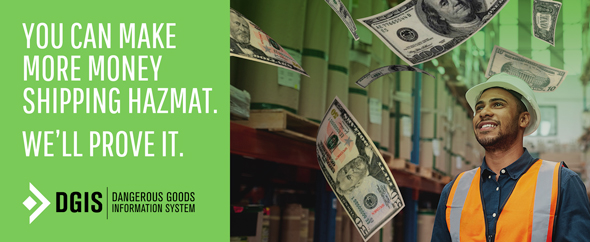 As the industry's most robust, flexible, and advanced hazmat shipping software, Labelmaster's DGIS can actually help your operation make more money. DGIS validates shipments and prepares DG declarations so quickly, you can handle more shipments every hour. And more shipments mean more revenue.
Try your own numbers in our calculator to see the added revenue DGIS can generate for you.

---