Week of November 29th, 2021
Linking supply chain news with dangerous goods compliance
The past year and a half has highlighted the critical role the supply chain plays in our daily lives. It has also showcased The holiday season is in full swing and labor shortages and delayed shipping times continue to put pressure on an already strained supply chain.
Let's examine some recent industry news.
---
SUPPLY CHAIN NEWS
---
OUR PERSPECTIVE
Keeping up with demand requires preparation. Consumers are looking to get goods any way they can – ordering online, shopping in store, ordering online and picking up in store. Shippers must be prepared to get their goods to customers in a range of ways – this means having the necessary processes, infrastructure, trained employees and supply chain partners in place. This is especially true for those transporting complex and regulated dangerous goods.
Shipping hazmat can cause even more headaches. When you're doing everything imaginable to make sure your shipments reach their destinations on time, the last thing you need is to have a shipment delayed or returned due to a compliance failure. Common hazmat shipping errors include mistakes with labels, marks and documentation, neglecting reverse logistics processes and even shipping hazmat without knowing you're shipping hazmat.
Don't wait to plan for returns. Peak season may be underway, but return season is right around the corner (if it hasn't already started). Return shipments are subject to the exact same regulations as outbound shipments, which means they can be frustrated by the exact same errors. And managing returns can be even more challenging because consumers are the shipper. That is why it is critical for businesses to have well-defined processes for compliant reverse logistics of DG.
To learn more about Dangerous Goods software or how to establish a safer, more compliant supply chain, visit https://www.labelmaster.com.
Have questions about Dangerous Goods transport? Call the Labelmaster Regulatory Hotline at 1.800.621.5808.
---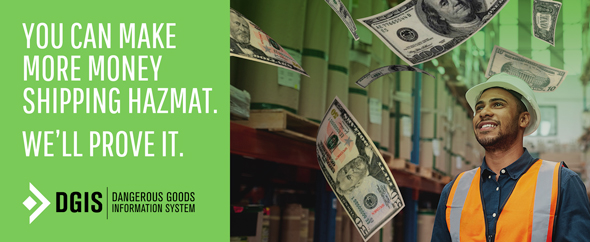 As the industry's most robust, flexible, and advanced hazmat shipping software, Labelmaster's DGIS can actually help your operation make more money. DGIS validates shipments and prepares DG declarations so quickly, you can handle more shipments every hour. And more shipments mean more revenue.
Try your own numbers in our calculator to see the added revenue DGIS can generate for you.

---