Week of October 4th, 2021
Linking supply chain news with dangerous goods compliance
Supply chain disruptions continue to dominate the headlines. And with no relief in sight, many are making big changes to their operations in order to deliver goods to customers. 
Let's examine some recent industry news.
---
SUPPLY CHAIN NEWS
---
OUR PERSPECTIVE
Supply chain disruptions, delays aren't going away. Port congestion, lack of available capacity, the labor shortage and high shipping volumes head into the holiday season continue to wreak havoc on the supply chain. And according to many industry experts, these issues will continue into 2022 (and possibly beyond), making this the "new normal" for today's supply chain.   
DG management process must evolve. As we've continued to stress ever since the pandemic first started instigating adjustments to supply chains, changes to a company's shipping processes impact its DG management operations. And, likewise, DG management processes have a tremendous impact on a company's operations, risk management and bottom line. As companies are being forced to make operational changes (both big and small) in order to address short- and long-term needs, DG management processes, training and knowledge must evolve and expand along with it. Not doing so can cause even more delays, increased costs, and unhappy customers. 
Now is the time to talk with senior leadership about compliance. Getting senior leaders to understand the value of DG compliance has been an ongoing challenge. But as businesses place greater emphasis on the supply chain, now is the perfect time to engage company leadership in conversations around the role of DG management and the risk of noncompliance. After all, the last thing businesses want is more delays, roadblocks to rolling out new strategies or an incident involving hazmat in the news.
To learn more about dangerous goods software or how to establish a safer, more compliant supply chain, visit https://www.labelmaster.com.
Have questions about dangerous goods transport? Call the Labelmaster Regulatory Hotline at 1.800.621.5808.
---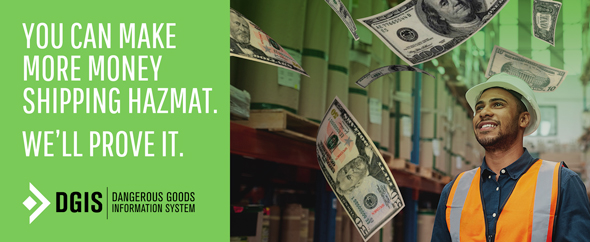 As the industry's most robust, flexible, and advanced hazmat shipping software, Labelmaster's DGIS can actually help your operation make more money. DGIS validates shipments and prepares DG declarations so quickly, you can handle more shipments every hour. And more shipments mean more revenue.
Try your own numbers in our calculator to see the added revenue DGIS can generate for you.

---