Week of September 6th, 2021
Linking supply chain news with dangerous goods compliance
Cold chain management has been a hot topic over the past year and a half given discussions around shipping COVID-19 tests and vaccines, and how safely and compliantly storing and transporting temperature-controlled goods continues to be a supply chain focus.
Let's examine some recent industry news.
---
SUPPLY CHAIN NEWS
Cold Chain 2021: Under Pressure: While most of the focus on cold chain logistics has been primarily on pharmaceuticals and medical goods during the pandemic, the food logistics industry is now under increasing scrutiny and enormous pressure to improve performance.
The Cold Chain Climate: The cold chain industry stepped up to meet short-term demand in the health sector, but additional capacity and capability investment is needed in order to deliver on fulfillment promises to consumers and businesses.
Top 3PL & Cold Storage Providers: Food Logistics examines the positive impacts that third-party logistics and cold storage providers bring to the cold food and beverage supply chain.
Cold Chain Warms to Sustainable Goals: Temperature-controlled storage and distribution has come under considerable scrutiny as the food industry balances a need to keep food fresh and safe with the environmental and financial cost of doing so.
All Eyes on Cold Chain Management: While cold chain management problems for COVID-19 vaccines mainly revolve around transportation, fabrication and storage are also challenging for many companies, especially when it comes to IT – which is where rugged devices come into play.
---
OUR PERSPECTIVE
A lot of factors to consider. Temperature-controlled goods – whether food, vaccines, infectious substances or others item – all have requirements that will impact how goods are packaged, labeled, stored and shipped. Know which rules apply to what you're shipping and take steps to ensure all stakeholders (employees, suppliers, carriers, etc.) are properly trained and adhering to these rules.
What's shipped with goods has an impact too. The cooling and monitoring systems shipped with goods may bring additional requirements. For example, dry ice and cryogenic liquid nitrogen, which are commonly used to keep goods cold, are classified as hazmat and subject to hazmat regulations. Additionally, many of the devices used to track shipments and monitor time and temperature contain lithium batteries, and may require additional packaging and labeling.
Plan for the unexpected. A lot can go wrong when shipping temperature-controlled goods, so consider all potential supply chain disruptions (and the associated costs). For example, if there's a higher risk of a shipment getting held up in customs or sitting on a tarmac in hot weather, you may want to use more expensive packaging that holds temperature longer or select a carrier that will re-ice a shipment if it does get held up.
To learn more about dangerous goods software or how to establish a safer, more compliant supply chain, visit https://www.labelmaster.com.
Have questions about dangerous goods transport? Call the Labelmaster Regulatory Hotline at 1.800.621.5808.
---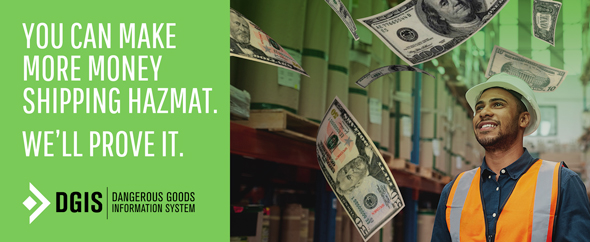 As the industry's most robust, flexible, and advanced hazmat shipping software, Labelmaster's DGIS can actually help your operation make more money. DGIS validates shipments and prepares DG declarations so quickly, you can handle more shipments every hour. And more shipments mean more revenue.
Try your own numbers in our calculator to see the added revenue DGIS can generate for you.

---