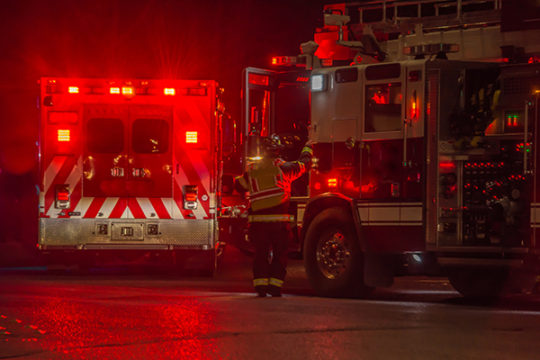 Believe it or not, 2020 is only a few months away, and that means it's almost time for the Dangerous Goods version of the summer Olympics—the quadrennial release of the Emergency Response Guidebook (ERG).
Since we're already seeing heavy pre-orders for the new 2020 ERG, we wanted to take a few minutes to answer a few frequently asked questions:
1. What is the Emergency Response Guidebook?
The ERG is a compact book, published every four years by PHMSA, packed with key information for responding to transportation emergencies involving hazardous materials. In well-trained hands, it can help keep an accident from becoming a worst-case scenario.
2. Why do I need a copy?
When there's an accident involving Dangerous Goods, there's always the risk of hazardous material escaping. First responders and transport personnel need to know exactly how to respond to minimize the risk of injury—and they rely on the ERG for critical information and guidance. If your business involves Dangerous Goods, every one of your front-line stakeholders should have a copy of the ERG—and know how to use it.
3. Who legally needs to have an ERG?
Section 172.602 of the 49 CFR requires anyone who handles or transfers Dangerous Goods to provide emergency response information appropriate to those materials—and Part b (3)(iii) states: "If the entire ERG is present… the requirements of § 172.602 are satisfied."
4. What kinds of personnel should have an ERG?
Truck drivers and railroad personnel are two obvious groups, but don't forget about pilots and air freight handlers, maritime personnel, pipeline personnel, and freight facility and warehouse personnel. Any of them could be the first to distinguish between a routine spill and a serious safety threat—and the information they give emergency responders can save lives. That's why it's essential that they have a current edition of the ERG, know how to read it and be trained in how to apply its information.
5. When will the 2020 ERG be released?
ERGs will begin shipping on Monday, September 21, 2020!
6. Can't I just stick with my 2016 edition?
Legally, maybe—but it's not a good idea. The 49 CFR specifies the information must be "appropriate to those materials" being transported, but lots of regulations have changed since 2016. And the 2020 ERG will have plenty of new material.
7. How will the 2020 edition be different from the 2016 edition?
We don't know for sure yet, but here's a summary of likely updates:
White Pages:
New Lithium Battery Mark added
Decontamination section added
Basic information about heat induced tears (HIT) added
Improved illustrations in the rail car and road trailer identification charts
Orange Pages:
Possible guide reassignments of certain entries after re-evaluating physical and health hazards
Inhalation toxicity concerns evaluated for petroleum crude oil (UN1267) on Guide 128
Radioactive materials guides being evaluated for possible changes
Yellow/Blue Pages:
UN numbers added or removed to align with United Nations Model Regulations and North American regulations
Chemical warfare agents will remain in the ERG, but will not be assigned a UN number
Polymerization hazard being reviewed for certain materials
Green Pages:
Isolation distances added for PIH/TIH materials added into recent UN Model Regulations and North American regulations
Revision on introduction on how to use Table 2
Container capacities added to Table 3
Visual tab in border added to differentiate between Tables 1, 2, and 3
8. What was new in 2016?
Some of the changes to the 2016 ERG included expanded Rail Car Identification and Road Trailer Identification charts, added information about GHS markings, an expanded Table of Placards, updated pipeline emergency response information, and the addition of all new hazardous materials listed in the UN Recommendations on the Transport of Dangerous Goods.
9. Will the cover be orange again?
Probably. The last few editions have been orange, but you just never know with those PHMSA folks.
10. What forms does the ERG come in?
Full-sized and pocket-sized, standard bound or spiral bound. And whichever form you prefer, we're now offering it at our lowest price ever.
11. Is the ERG available in languages beside English?
Yes—it's also available in Spanish.
12. What size bookshelf would it take to hold the 14.5 million ERGs distributed to first responders since 1973?
The shelf would be 185 miles long. But if you built a five-tiered shelving unit, it would only need to be 37 miles long.
13. Why order now?
First of all, because everyone and their uncle will be ordering the book — but you'll have yours as sooner rather than later. More important, ordering the 2020 ERG now locks in our lowest price ever.
Don't wait! Order your 2020 ERG now!
Labelmaster is a full-service provider of goods and services for hazardous materials and Dangerous Goods professionals, shippers, transport operators and EH&S providers. See our full line of solutions at labelmaster.com.