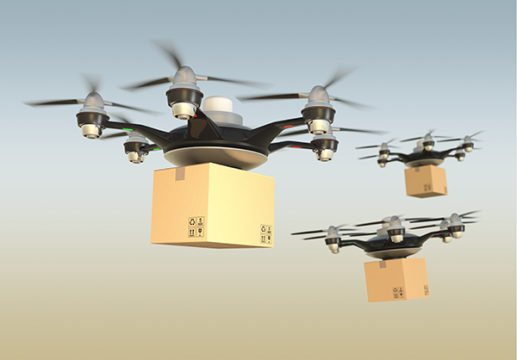 Mark Wuennenberg, VP of Regulatory Affairs at Drone Delivery Canada, will speak about "Innovation Taking Flight—Drones in Cargo Logistics" at the 14th annual Dangerous Goods Symposium, September 4–6, 2019, in Chicago.
Will unmanned aircraft systems (commonly referred to as drones) ever have a role to play in Dangerous Goods transport? If Mark Wuennenberg has anything to say about it, the answer is yes—and soon.
The main advantage to unmanned aircraft, he says, is that because there is no one on board the aircraft, in certain circumstances you could "… transport Dangerous Goods you couldn't on a manned aircraft. You can accept greater risk. With lithium batteries, for instance, you're not worried about them catching fire and endangering the crew."
Here are some of the ways Drone Delivery Canada believes unmanned aircraft could soon be used more effectively for hazmat transportation.
Depot-to-depot delivery
"We're focused on the last mile issue—how do you get your cargo from the main depot to the local depot?" Wuennenberg says. "Unlike others who propose dropping a burrito on your front step, we're looking at depot-to-depot delivery services allowing numerous flights over the same route."
The unique advantage of unmanned aircraft, of course, is that they can often be used to reach locations that ground vehicles and conventional aircraft can't easily get to—and can do so at a fraction of the cost.
"We have many remote and rural areas that are poorly served or not served at all by conventional delivery services, which drives up the costs of goods," Wuennenberg says. "It currently costs upwards of $1,800 an hour to have a helicopter deliver goods or supplies in some of these communities. If there's a small clinic on an island that needs 10 liters of blood or a specific medicine, using a manned helicopter would be prohibitively expensive and would likely take longer to respond.
"Additionally, poor weather and crew rest requirements may inhibit manned aircraft operations. If there's an urgent need, you could deliver that blood on a small unmanned aircraft, which provides more flexibility and for which you could accept a greater risk."
"We've been very diligent with compliance"
In many countries, unmanned aircraft do not yet have their own rules for transporting hazmat, so delivery services are unsure how to safely do so. Unfortunately, this means they either ignore the rules or implement them improperly.
In many countries, Dangerous Goods regulations don't currently address the use of drone delivery, but Wuennenberg—a former civil aviation inspector at Transport Canada—is working toward the day they do. He says, "The technology has overtaken the regulatory development process. However, at Drone Delivery Canada, until unmanned-specific regulations are published, we will comply with existing rules."
To help regulations and policy development, Drone Delivery Canada will be working with Transport Canada on a TDG pilot program. Additionally, they're the only drone company that's a member of the Air Transport Association of Canada, where they're part of the Dangerous Goods working group.
"It's an opportunity to re-look at policies and regulations from the perspective that we don't need to protect the person on the plane but only people on the ground," Wuennenberg says. "We've been very diligent with cooperation and compliance from a regulatory perspective."
More effective emergency services
While the company adheres to Dangerous Goods regulations that weren't written for unmanned aircraft, that hasn't stopped them from demonstrating the potential effectiveness of drone hazmat delivery.
Wuennenberg describes a trial in which they delivered an AED based on a simulated 911 call against an ambulance covering the same distance.
"An AED has lithium batteries. Now, our aircraft has four very large lithium batteries for propulsion, but we had to follow the rules for the small lithium batteries in the AED, because they're DG. We had all the forms and the proper labels. Did the existing rules make sense in this case? Probably not, but we still followed them. And we still beat the ambulance!
"We start with what exists and work to make it more efficient. This is new ground we're breaking, and looking at the big picture … how these capabilities will positively impact society."
The 14th annual Dangerous Goods Symposium—September 4–6, 2019
You can enjoy Wuennenberg's presentation and many more at the 14th annual Dangerous Goods Symposium September 4–6, 2019, at Sheraton Grand Chicago.
Join us as industry experts and regulators discuss topics and lead workshops that cover everything from training best practices to international and domestic regulatory updates and the latest lithium battery regulations. You'll never find more DG knowledge or experience in the same place, anywhere.
Labelmaster is a full-service provider of goods and services for hazardous materials and Dangerous Goods professionals, shippers, transport operators and EH&S providers. See our full line of solutions at labelmaster.com.