Week of August 9th, 2021
Linking supply chain news with dangerous goods compliance
Sustainability has been a hot topic for years. While it was just talk for many organizations, it has continued to pick up steam and become a real focus, putting additional pressure on supply chains.
Let's examine some recent industry news.
---
SUPPLY CHAIN NEWS
Retail in the Age of Sustainability: As buying behavior continues to change, businesses are forced to make changes to how they operate. One critical area retailers and brands are continuously looking to improve is their sustainability approach.
Why Supply Chain Transparency Means the End of Greenwashing: While many businesses are taking real steps to reduce the environmental impact of their supply chains, others are using the consumers' heightened environmental awareness to generate brand publicity and sell more products. But as supply chains become more transparent, those dishonestly claiming environmental responsibility will be exposed.
---
OUR PERSPECTIVE
Consumer behavior impacting sustainability. Businesses adapting to changing consumer preferences have been highly publicized when it comes to faster shipping, but it has also led to increasing pressure for more environmentally-responsible business practices. And, in some cases, the pursuit of sustainable supply chains is at odds with adapting to other demands
Sustainably shipping dangerous goods. As many of the goods being shipped being hazmat, businesses must take steps to align safety and compliance processes with their internal sustainability initiatives as well as government mandates, such as those from the EPA. Whether it's with the carriers you select, using recyclable packaging or properly disposing of or recycling hazmat.
Sustainable technologies have compliance requirements. Increased adoption of technologies to support sustainability efforts impacts compliance as well. For example, electric and hybrid vehicles are powered by large format lithium batteries, which are fully-regulated hazmat. And the complexity is take up another level when transporting damaged, defective, or recalled (DDR) batteries. Businesses in this market must implement the necessary processes and training to ensure these shipments are done in a safe, compliant and sustainable way.
To learn more about dangerous goods software or how to establish a safer, more compliant supply chain, visit https://www.labelmaster.com.
Have questions about dangerous goods transport? Call the Labelmaster Regulatory Hotline at 1.800.621.5808.
---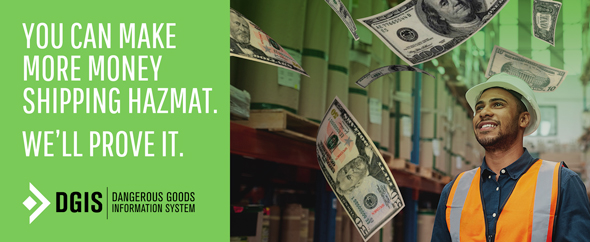 As the industry's most robust, flexible, and advanced hazmat shipping software, Labelmaster's DGIS can actually help your operation make more money. DGIS validates shipments and prepares DG declarations so quickly, you can handle more shipments every hour. And more shipments mean more revenue.
Try your own numbers in our calculator to see the added revenue DGIS can generate for you.

---