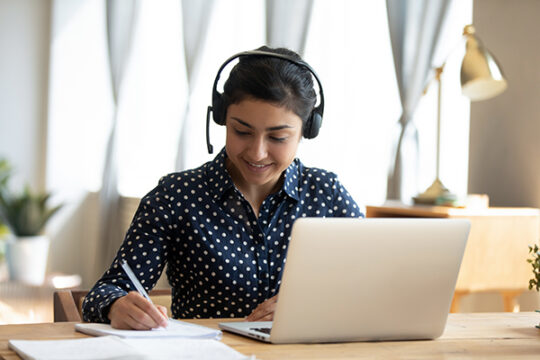 While you're coping with the COVID-19 pandemic, there are many things you can put off until life gets back to normal.
Hazmat training, however, is probably not one of them.
If your—or your team's—certifications are coming due, you have to renew your training, or you risk fines for non-compliance. (Expired or incomplete training certifications are the single most-cited category of Dangerous Goods violations.) But in-person classroom training isn't an option right now, and may not be for a while.
That's why we've upgraded our virtual training capabilities. Right now, you can schedule virtual training with Labelmaster Dangerous Goods experts that's interactive, customized to your exact needs, and 100% as valid as in-person training.
How virtual hazmat training should be done
Our new, upgraded virtual training webinars are as close as you can get to having an instructor in the same room.
"We've invested in better webcams that deliver sharper video and show a wider angle, so people can see us just like we're in front of a classroom" explains Labelmaster Senior Consultant Alicia Saenz. "When we're teaching the importance of closure instructions, how to properly assemble a package, and where to apply marks and labels, it's so much more effective than staring at a PowerPoint or a video."
Senior Manager Jay Johnson adds, "It's true interaction. You have a live instructor right there to answer your questions in real time, just as if I was in the room with you. I can even deploy quizzes and polls about materials you ship during instruction and make people answer, so they're not just sitting there and staring at the screen."
Our new virtual training system works over Skype, GoToMeeting, WebEx or other platforms. It administers exams via SurveyMonkey, and the results are every bit as valid as exams administered by a live instructor.
Customized for true function-specific training
One feature of Labelmaster training does not change during virtual delivery: Your training sessions are customized to give employees complete, function-specific competence in compliantly handling the exact materials your organization ships.
Saenz says, "We don't host public classroom training or public webinars—all our sessions are client-specific. We customize the material, dialing it down to what you're actually shipping and cutting out the noise."
"With an open class or webinar, you might have 30 students with 30 issues," adds Johnson. "Some shippers ship lithium batteries, and some don't. Some ship mostly bulk and other ship mostly non-bulk. We customize our sessions so there's no wasting time on materials your teams are never going to see. It's not generic—you can ask specific questions and we can talk about interpretations relating to the work you do every day."
Saenz says, "It's competency-based and function-specific. A lot of employers overlook the need for function-specific training—they just want to get a certificate."
"But sometimes it takes a negative exit briefing from a DOT inspector to get people to pursue the right training," says Johnson.
Regulations manuals included with training
Another unique aspect of Labelmaster virtual hazmat training is that regulatory manuals are made available to all participants. People taking a class on the 49 CFR, for example, receive copies of our MasterRegs™ manual to keep, while people taking other courses receive loaner manuals they can send back when the course is over.
In addition, Labelmaster virtual hazmat training offers employers almost unlimited flexibility.
"It lets users switch back and forth between their own cameras and the instructor's," says Johnson. "If you have four distribution centers, you can have all four online doing training at same time. Everyone can see everyone else, or they can all focus on the instructor."
Saenz adds, "You can break up sessions—say four hours now, four hours a few days later. That gives your staff real flexibility. Plus, they can take the test as time permits that day or the next.
"We're stepping up our game, so you'll feel like you have a live person in that session. And the courses keep people engaged, toggling back and forth between the texts, exercises and games. We're working hard to make training as seamless as possible, plus a little more entertaining."
To request customized virtual hazmat training for your organization, visit Labelmaster Services. Questions? Please call us at 800.621.5808.
Make sure your shipments are safe and in complete compliance with a full line of solutions from Labelmaster—a full-service provider of goods and services for hazardous materials and Dangerous Goods professionals, shippers, transport operators and EH&S providers.