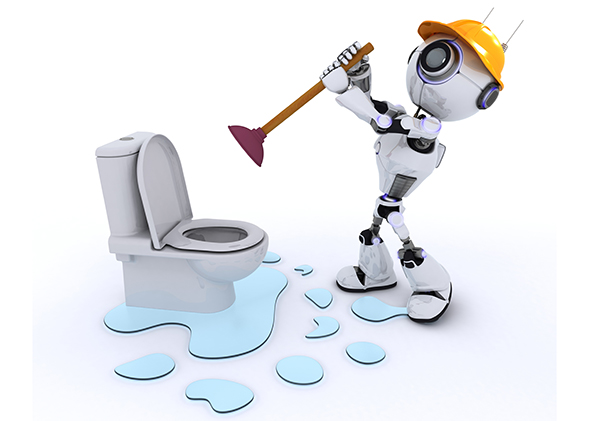 Say you've invented a robot that doesn't just vacuum floors, but cleans all the grime off your showers, sinks and toilets, too. (Let's call it the "Bathroomba.") If an informal poll here at Labelmaster is any indication, your brainchild will command a premium price and sell a million units by next Wednesday.
There's only one problem. Your lack of Dangerous Goods expertise could generate massive civil penalties, cause numerous injuries and bankrupt your company.
Consultants from Labelmaster Services work extensively with e-commerce companies to make sure that doesn't happen. Here are some questions they suggest answering before you invest major time or money in the Bathroomba:
Are you shipping Dangerous Goods? If your device runs on lithium batteries, the answer is yes. Actually, the answer is "Oh my goodness, yes," because, while many common household items are actually regulated hazmat, lithium batteries are among the most heavily regulated items out there. (Also the most complex—more on that later.)
What kind of lithium batteries? Lithium-ion or lithium metal? If the Bathroomba is rechargeable, it'll be lithium-ion.
How big is your battery? We're guessing it's a large-format battery, which means every Bathroomba will be a fully regulated shipment. Your people will need specific training so they understand classification, identification, marking, labeling, UN packaging and full documentation. (Did we mention this would be complex?)
Who manufactures your battery? Remember all the videos a couple of years ago of hoverboards spontaneously catching fire? Many of them were powered by cheap, substandard batteries from manufacturers in countries that are, shall we say, not especially stringent about enforcing safety standards.
Has your battery successfully passed the UN38.3 test? If so, the Bathroomba is far less likely to be featured in future YouTube videos. (Unless cats like to ride it.)
Did you design your product with enough space for an approved battery? Maybe we should have asked this one back around question #2. To avoid snafus like this, some manufacturers bring in our consultants early in the product development process to work directly with their R&D folks.
What's your distribution plan? How is this a question about batteries? Well, your product development process (including the batteries you choose) may change depending on where you intend to sell the Bathroomba and how you intend to get it there. For instance …
Will you sell it overseas? Sure hope so, right? But now you have to comply not just with U.S. hazmat transport regulations (as defined in the 1,200-page Volume 49 of the Code of Federal Regulations), but several other equally dense volumes governing transport by air, sea, ground and rail in Europe, Asia and everywhere else.
Will you use a third-party logistics company? Most e-commerce companies do, and for good reason. A good third-party logistics partner saves you money and makes your life easier. Just make sure your 3PL—and every other partner in your supply chain—is trained up on lithium battery transport.
What about returns? Consumers and retailers may need to send back defective or unwanted products. (Who wouldn't want a Bathroomba? Sure, but still.) They won't be trained in compliant lithium battery shipping, so your customer service reps probably should be.
Are you sure you want to be an e-commerce entrepreneur? Just kidding! We know it gets intimidating, but with expertise from Labelmaster consultants, we're sure you can make the Bathroomba a global scum-scouring success!
---
Labelmaster is a full-service provider of goods and services for hazardous materials and Dangerous Goods professionals, shippers, transport operators and EH&S providers. See our full line of solutions at labelmaster.com.