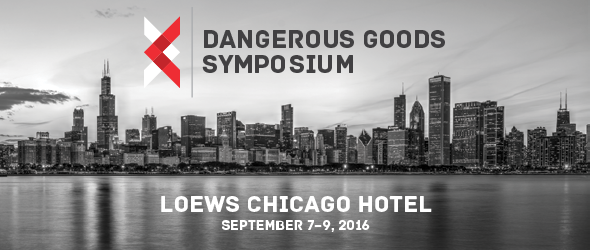 The 2016 Dangerous Goods Symposium—a.k.a. DGS XI—is slated for September 7–9, at the Loews Chicago Hotel. As always, the Symposium will feature workshops and presentations from some of the sharpest trainers and practitioners in the Dangerous Goods galaxy, along with unparalleled networking and plenty of downtime pleasantries.
DGS XI will only be free for participants who sign up on or before April 15th.
That's reason #1 to sign up now, but we came up with 15 more:
You'll mingle with the best minds in Dangerous Goods. Take in presentations from top regulators and compliance officers from some of the world's largest shippers. Better yet, pick their brains over beer.
It might be the only nice week of Chicago weather all year. Between our brutal winters and our suffocating summers, we sometimes get a few perfectly pleasant days. These could be them!
You'll dive deep into the new ICAO Competency Based Training, with a workshop led by one of our overseas speakers.
We'll be in downtown Chicago, not bland suburban Rosemont. You can walk to Navy Pier or Millennium Park, or stroll the Magnificent Mile of Michigan Avenue. In Rosemont, you can get lost trying to find the entrance to Ikea.
You'll get the lowdown on the latest trends and controversies. What will ICAO or PHMSA think of next?
Loews is a spectacular new hotel. Have a look.
You'll get the latest domestic and international regulatory updates from ICAO, PHMSA, Transport Canada, ADR, IATA and more.
You can experience the resurgence of O'Hare. O'Hare was recently dropped from the ranks of the world's top 100 airports, so we're sure they'll be extra-motivated to improve.
You'll have fun. Last year we toured the Anheuser Busch brewery and played crazy DG-related interactive games. This year's fun is TBD, but did we mention being a short walk from Navy Pier?
Chicago is America's 7th-best food city. And New York came in 8th. Take that, thin pizza fans!
Early bird rates end April 15. Yes, we mentioned that already, but it bears repeating. Get your free early-bird rate now!
Chicago is America's 6th-best city for live music. And Los Angeles came in 7th. Take that, all you trendy hipsters!
You'll join "Lithium Batteries – The Great Debate Continues." At DGS X we heard the first rumors about the new Hazard Class 9 classification. What will the DG community be buzzing about this year?
You'll get out of the office for three days. Not only that, your travel and accommodations are probably tax-deductible business expenses. (Aren't you glad the IRS doesn't regulate Dangerous Goods?
Pennant fever. This is the Cubs' year, right? Right?
Learn More about the 2016 Dangerous Goods Symposium.
Registration is Open!

Don't wait! Free early bird sign-up ends April 15!
Make sure your shipments are safe and in full compliance with a full line of solutions from Labelmaster—a full-service provider of goods and services for hazardous materials and Dangerous Goods professionals, shippers, transport operators and EH&S providers.