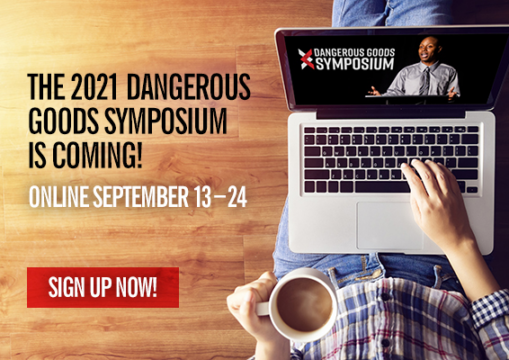 The 2021 Dangerous Goods Symposium starts next week—and you don't even have to book a trip to Chicago!
This year's event is all-virtual, hosted on the DG Exchange. (You'll need a free DG Exchange membership to participate.) And that means three big benefits for you:
It's free.
You can join as many (or as few) sessions as you want.
You can watch them live or catch up with the recordings any time.
Here's a brief description of every session, with links for registration. (All times are Central U.S.) You can also discover (and sign up for) all Symposium sessions at the DG Exchange Events page. We'll see you next week!
Just added!
Dangerous Goods and the eCommerce Effect, September 24, 2:00 PM CT. Dangerous Goods consultant Cathy Roberson will discuss how eCommerce impacts sales and returns of hazmat, and how eCommerce providers are (or are not) disrupting domestic and international compliance concerns.
FAA Updates from Executive Director Ben Supko, September 24, 10:00 AM CT. Supko leads the FAA Office of Hazardous Materials Safety, and has also worked as PHMSA's Chief of Standards and Rulemaking. There's no better source for insight into U.S. regulations for shipping hazmat by air.
Week 1
Let's Talk Training! A Roundtable Discussion, September 13, 10:00 AM CT. This panel of training experts and regulators includes Labelmaster Director of Global Learning Rhonda Jessop, former ICAO DG Panel Chairman Geoff Leach, LaQuita Donald of Genuine Parts Company, Jim Powell of Transportation Development Group LLC, Scott Dunsmore of Lion Technology, and PHMSA Hazardous Materials Investigator Katelin Maits.
Domestic Regulatory Updates: PHMSA and USPIS, September 14, 10:00 AM CT. What's new and what's on its way for U.S. Dangerous Goods regulations? Find out from PHMSA's Shane Kelley and Vinny Desiderio of the U.S. Postal Inspection Service.
What to Expect Before, During, and After a PHMSA Inspection, September 14, 3:00 PM CT. PHMSA Hazardous Materials Investigator Katelin Maits explains why your company was selected for inspection, common violations inspectors might find, and resources to help your company come into compliance afterwards.
What the C-Suite Needs to Know About DG Supply Chain Management, September 15, 10:00 AM CT. In this panel discussion, C-Suite executives David Crist, R.J. Romano, Bruce Samuelson, Bill Schroeder and Labelmaster's Rob Finn—discuss how DG pros can change the conversation about DG compliance from "cost center" to "revenue center and growth engine."
International Regulatory Update: China, September 15, 3:00 PM CT. Few others can offer insight into the complex, evolving world of Chinese hazmat regulations like Terry Guo, Dangerous Goods Regulatory Specialist and China Representative at the Institute of Hazardous Material Management.
Convince and Convert: What Makes Attention Getting Content for Your Audience, September 16, 10:00 AM CT. Laura Denk works with entrepreneurs, marketers, salespeople, trainers and more to teach them how to be strong storytellers. Learn how to apply her lessons to Dangerous Goods Training.
IMDG Code Amendment 40-20 Update, September 16, 3:00 PM CT. Veteran Dangerous Goods consultant and trainer Richard Masters details changes to the IMDG Code that will apply from now through to 2023, and what they'll mean for maritime transport of hazardous materials.
Live with the Lithium Battery Panel, September 17, 10:00 AM CT. Lithium Battery Friday is back! Our all-star panel of experts from the regulatory world, aircraft manufacturing, airlines and training will explore IATA's decision to eliminate the Section II Packing Instructions exceptions for all standalone lithium batteries, among other highly charged (sorry) issues.
Week 2
International Regulatory Updates: UN and ADR, September 20, 9:00 AM CT. Join Duane Pfund, PHMSA Office of Hazardous Materials Safety International Program Coordinator, and Kristel Vermeersch, founder of KVS & Partners Dangerous Goods Consulting, for these important UN and ADR regulatory updates.
International Regulatory Updates: IATA & South America, September 20, 3:00 PM CT. Get the latest on international DG air transport regulations from Dave Brennan, Assistant Director of Cargo Safety & Standards at IATA, and updates on the continuing harmonization of South American regulations from CIQUIME Director Diego Gotelli.
Partners in Dangerous Goods – The FBI, September 21, 10:00 AM CT. Dr. Charles Luman—a chemist with the FBI Laboratory in Quantico, Virginia—will discuss how supply chain partners help the FBI prevent and respond to acts of terrorism, citing historic cases that have shaped the industry.
Are My Lithium Batteries Safe to Transport?, September 21, 3:00 PM CT. Four Labelmaster experts answer common and less common questions about lithium battery regulations, especially those relating to shipping damaged, defective or recalled (DDR) lithium batteries, which may pose a higher level of safety risk.
Cybersecurity and Infrastructure & Chemical Facility Anti-Terrorism, September 22, 10:00 AM CT. The threats we face—digital and physical, man-made, technological, and natural—are more complex than at any point in our history. Mitch Paine and Sam Duchac, of the Cybersecurity and Infrastructure Security Agency within the U.S. Department of Homeland Security, will share the organization's latest updates.
A Snapshot of Container Shipping 2021: The Suez Canal and Other Water Related Issues, September 22, 3:00 PM CT. Dangerous Goods professionals know that one relatively small lapse can trigger large scale negative consequences. Veteran Dangerous Goods consultant and trainer Richard Masters unpacks how 2021 maritime incidents demonstrate this unfortunate truth.
Let's Review Your Shipping Standard Operating Procedures, September 23, 11:00 AM CT. Pierbridge Senior Channel Manager Bob Liva and Labelmaster VP Mario Sagastume ask and answer crucial questions about omnichannel and Dangerous Goods shipping, including: What's inside and outside the Box? And What processes/systems are you using to fulfill shipments?
Understanding the Future of Freight Transportation, September 23, 3:00 PM CT. As Chairman and CEO of FTR, Eric Starks is a leading researcher in freight model share analysis and forecasting. This session will put today's supply chain constraints in context, and dive into trends in industry regulations, driver issues, and shifts in truck and rail freight for hazardous materials.
Don't miss the Dangerous Goods event of the year—register now for the 2021 DG Symposium!
Make sure your shipments are safe and in complete compliance with a full line of solutions from Labelmaster—a full-service provider of goods and services for hazardous materials and Dangerous Goods professionals, shippers, transport operators and EH&S providers.