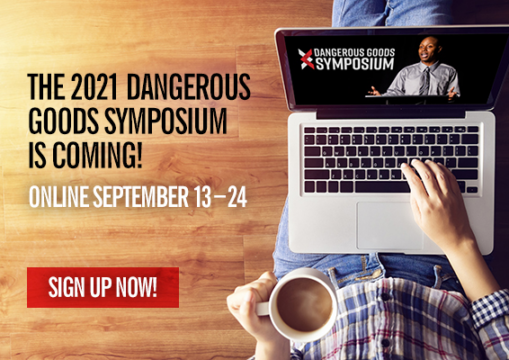 Do your company's leaders understand what you do? Are they aware of the unique challenges of the Dangerous Goods supply chain, and do they take compliance seriously enough to do more than is minimally required?
Our recent Global Dangerous Goods Confidence Outlook revealed that:
31% of DG pros feel their company's senior leaders are not aware of their DG supply chain challenges.
36% believe their companies only adhere to the minimum requirements.
While those numbers are troubling, they also indicate that many business leaders do "get it." They understand what hazmat compliance is all about, and they're willing to do more than the minimum.
Some of those leaders will join us for DG Supply Chain Management: What the C-Suite Needs to Know—a first-of-its-kind panel at the 2021 Dangerous Goods Symposium in September. Dave Crist, President of Brother Mobile Solutions, is one of those leaders. Here are some of his views on Dangerous Goods from the C-Suite.
"A duty to report and inform"
"Preserving our brand reputation is very important to us," says Crist. "We've been around more than 110 years with at-your-side support—not just a superior initial experience but a solid, reliable experience over a product's lifetime. And part of that experience is to do our best to mitigate our customers and partners from areas of risk."
Brother Mobile Solutions offers mobile printing, desktop labeling and thermal printing solutions across multiple industries. Many of these solutions contain lithium-ion batteries, so regulatory compliance is a day-in, day-out effort—but compliantly transporting their lithium battery-powered devices to customers is only part of what Crist sees as his organization's commitment.
"We comply with carrier guidance and regulations, of course, but we do need to ask ourselves, 'is that going far enough?'" he says. "We're fully aware of all our obligations over the lifecycle of our products. We sell into the very large supply chain market—manufacturing, warehousing and transportation—and our products get deployed in hundreds of vehicles and warehouses. We believe we have a duty to report and to inform customers, beyond just selling them products."
"How resilient is this system?"
One of Crist's priorities is risk management.
He explains, "There can be a disconnect. A logistics department gets guidance, complies, and thinks they're done, but there's a deeper question: How resilient is this system if something goes wrong? A shipment might be properly packaged and labeled, but if there's an event, then what happens?"
His organization's approach seeks to enable multiple layers of protection, analogous to how many companies approach cybersecurity: Visibility (compliant packaging and labeling), the ability to react to an incident, and the ability to recover.
"You have to be fully aware of what your risk landscape looks like," he adds. "For us it's just one kind of product, but we have a very complex supply chain with lots of participants and handoffs. What you don't know is the risk that comes from other participants—their risks can compound and get worse.
"People in my position are always calculating risk-reward equations. The minimal cost of compliance is cheap compared to the risk exposure, but one may need a greater level of investment to bring things more into balance."
"The answer is high visibility"
During the upcoming DG Symposium panel, Crist will discuss how his organization's Dangerous Goods approach extends to other things in the supply chain which are also important to track—items with high value, those which can be easily diverted or stolen, or subject to counterfeiting.
Ha says, "It involves a lot of the same principles, along with the risk of economic loss. We're involved in supply chains where we'll get fined by customers if we ship them something the wrong way. And, as with Dangerous Goods, one of the key answers is high visibility."
To hear more from Crist and other executives on changing the conversation around the DG supply chain, sign up for the DG Symposium!
The 2021 DG Symposium
"DG Supply Chain Management: What the C-Suite Needs to Know" is just one of the many virtual sessions you'll want to experience during the 2021 DG Symposium, which kicks off September 13th.  This year's event gives you free access to the biggest, most comprehensive line-up of Dangerous Goods experts we've ever presented. Here's a partial list:
A top DG trainers' panel
Domestic and international regulatory updates
A new session on DOT Audits
Updates from the U.S. Department of Homeland Security
"Convince and Convert" for DG trainers
"The Suez Canal and other Water Related Issues"
Expert advice on "Shipping Damaged/Defective/Recalled Lithium Batteries"
And the always-popular Lithium Battery Panel
All these presentations will feature live Q & A sessions, so you'll have a chance to pick the experts' brains on the topics that matter the most to your hazmat shipping operation.
And remember, this is just a preliminary list. We're adding new topics and speakers every week!
This year's Symposium, like last year's will be hosted on the DG Exchange. To join these sessions live (or watch them on-demand later), you'll need to be a DG Exchange member. If you haven't already, you can set up a free account there in just minutes.
Don't miss the Dangerous Goods event of the year—register now for the 2021 DG Symposium!
Make sure your shipments are safe and in complete compliance with a full line of solutions from Labelmaster—a full-service provider of goods and services for hazardous materials and Dangerous Goods professionals, shippers, transport operators and EH&S providers.