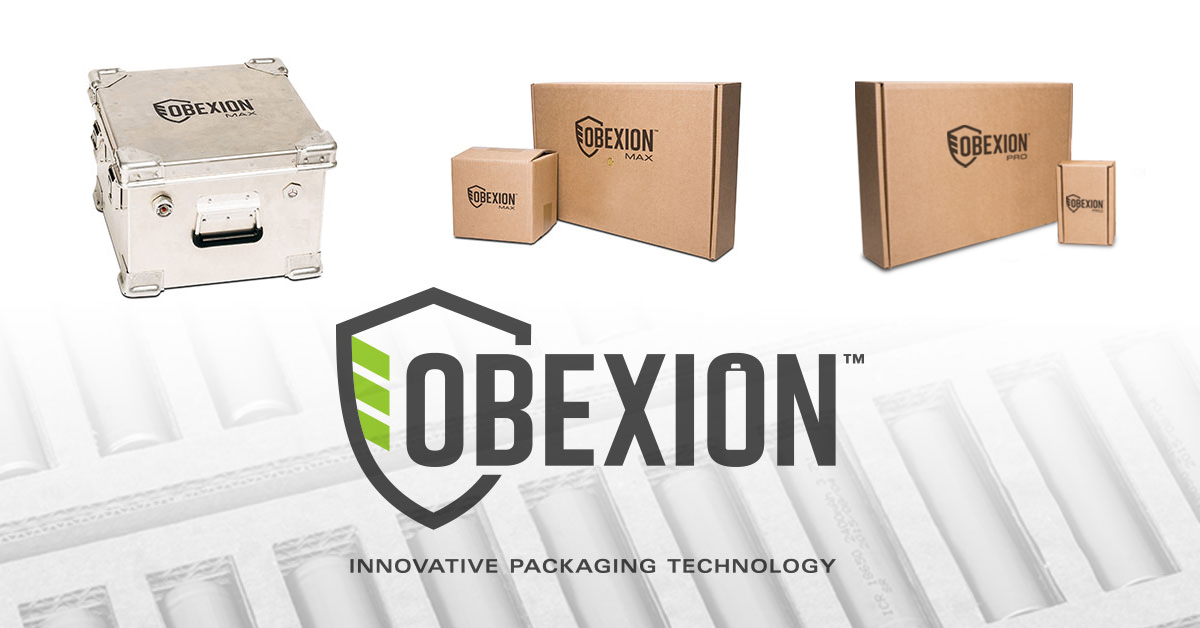 Since we introduced Obexion packaging technology last fall, we've had an unbelievable response from people who ship lithium batteries and battery devices. Many of the questions were predictable (even if the answers were amazing):
Can Obexion really contain a 400°C lithium battery fire without gels, pellets or heavy liners? Yes—watch the video here.
Can I really ship all my batteries for recycling in the same Obexion Pro box, without sorting them? Yes, under US DOT Special Permit #20527.
Does Obexion Max packaging pass the ICAO G27 draft packaging standards for lithium batteries? Yes.
Is Obexion Max packaging compliant for transporting damaged, defective, or recalled phones, laptops, tablets, and batteries by ground? Yes, under US DOT Special Permit #20432.
Is Obexion packaging customizable? Yes—Obexion can be customized for virtually any configuration and quantity of lithium batteries or battery devices. We also offer many off-the-shelf sizes for common applications.
Those are the questions we expected to hear when we introduced this revolutionary packaging. Here are three questions we didn't expect to hear—but we're happy to answer.
Is Obexion packaging recyclable?
Yes—Obexion Pro and Obexion Max-C products are recyclable and/or disposable without any special handling requirements.
Obexion Pro products consist of corrugation treated with a proprietary flame retardant that's non-toxic and non-hazardous. Obexion Pro packaging can be recycled "as is," or disposed of with standard waste management collection processes.
Obexion Max-C products include corrugation (treated with a proprietary flame retardant), metal foil, metal tape, thermal paste, Mylar bags, and a small metal grommet. All these components are non-toxic and non-hazardous—they can be recycled "as is" or they can be disposed of with standard processes. Note: The thermal paste is consumed during metal recycling when the metal is melted and reformed.
And what about Obexion Max-M products? These rugged metal boxes are made for repeated, prolonged use—storing or shipping lithium batteries and/or devices—over the course of several years. You might never need to recycle or dispose of them!
Is Obexion packaging non-allergenic?
Most people don't consider whether or not packaging materials are non-allergenic. But, as one of our clients discovered, the materials in some packaging can in fact trigger allergic reactions.
You'll be happy to learn that our dermal, eye and other testing demonstrate that Obexion packaging is non-allergenic.
Where'd you come up with a name like Obexion?
The Obexion name is derived from obex, the Latin word for "barrier." Add ion (since many shipments include lithium-ion batteries) and you have "Obexion."
Since this technology's ability to provide a barrier—between the lithium batteries inside and whatever's on the outside—sets it apart from any other packaging, we thought Obexion was the perfect name.
Besides, AmazingFlameResistantBatteryPackagingTechnology was just too long.
Get complete details about Obexion at labelmaster.com/Obexion, or call 800.621.5808.
---
Labelmaster is a full-service provider of goods and services for hazardous materials and Dangerous Goods professionals, shippers, transport operators and EH&S providers. See our full line of solutions at labelmaster.com.