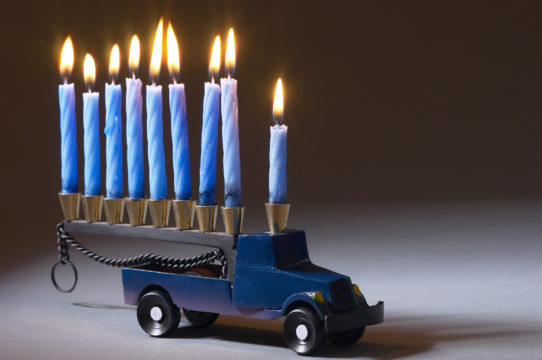 It's the holiday season, so naturally it's time for a holiday post. And this time we're doing something different.
We've done holiday gift guides. We've also done Valentine's Day, Mothers' Day, Fathers' Day, Independence Day and, of course, Halloween. But as far as we know, no one's ever done a Hanukkah-themed post about Dangerous Goods transport. So here we are with another industry innovation for Labelmaster!
But first …
A super-quick recap of the Hanukkah origin story
According to legend, Jews in the land that's currently Israel rose up against their Syrian oppressors and drove them out of Jerusalem. When they rededicated their desecrated Temple, they only had enough oil to light the lamps for one night—or so they thought.
By some miracle, the lamps remained burning for eight nights. That's why the eight nights of Hanukkah are celebrated today.
And that's why we're highlighting eight minor miracles to celebrate the first-ever hazmat Hanukkah.
Eight minor hazmat miracles
Whether you celebrate Hanukkah, Christmas, Kwanzaa, all of the above or none of the above, everyone at Labelmaster wishes you and yours the warmest of holidays and the happiest of New Years.
See you in 2020!
Make sure your shipments are safe and in complete compliance with a full line of solutions from Labelmaster—a full-service provider of goods and services for hazardous materials and Dangerous Goods professionals, shippers, transport operators and EH&S providers.