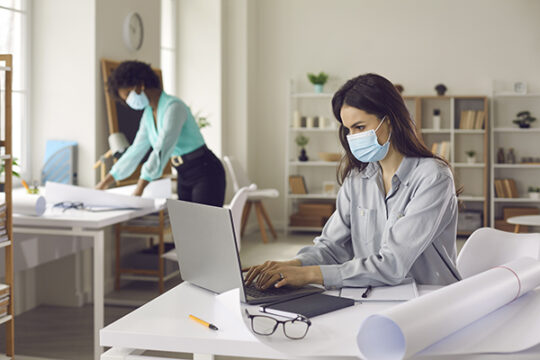 Like millions of organizations worldwide, we at Labelmaster are starting to return to our offices. While our warehouse and shipping teams have been working onsite since the earliest days of the pandemic—for which we cannot even begin to thank them enough—we office types have been working from home since last March.
And let's be honest. Working in sweatpants with the cat curled up on top of the file cabinet has been great, but enough already. We're so happy to be back!
If you're also returning to your workplace, here are a few Dangerous Goods-related pointers you might want to keep in mind.
Social distancing is still a thing. Vaccines can't guarantee that you won't catch COVID-19. If you do, you probably won't get sick, but you can still transmit it to others. That's why we'll all be wearing masks and social distancing for a while—and why you should place attention-grabbing social distancing safety signs strategically around your workplace.
All those vaccines need special packaging. Wasn't it amazing how the global supply has handled the enormous challenges of delivering so many millions of doses so quickly? We're proud to have provided temperature-controlled vaccine packaging for a healthy share of those shipments, and there's lots more where that came from.
That food you left in your desk last spring may now qualify as a regulated waste material. Never mind the "sell-by" date. Toss it.
Lots of supply chain workers may still work offsite. This pandemic is a long way from over, and people in different regions and countries may still be working from home (or be forced to return there). With coworkers or supply chain partners working offsite, it helps to have advanced Dangerous Goods software like DGIS that lets everyone view the same screen, with the same complete information about the same product, at the same time.
Hand sanitizer is no longer scarce. So stock up! But if you happen to be shipping any, be aware that most of the regulatory relief exemptions have expired.
The world has changed. So has the hazmat supply chain. No kidding, right? Just the explosion in e-commerce alone has changed the game permanently. Plenty of Dangerous Goods regulations have changed, too, but you can …
Get most of your questions answered on the Labelmaster Regulatory Hotline.  Just call 1.800.621.5808, 8 a.m. to 5 p.m., Central time, Monday through Friday. Because we make DG compliance and safety our highest priority, there is literally no question too simple or too complicated for our experts to answer—but questions that are too time consuming, or that have liability limitations associated with them, are more appropriate for ….
Labelmaster's Dangerous Goods consultants, who draw on nearly 200 years of regulatory experience to help you solve your hazmat transport challenges and make compliance a value-enhancing revenue driver. They'll work with you to take advantage of changes in the supply chain landscape.
Handshakes and hugs are making a comeback. Yes, you should try to socially distance as much as possible. But you haven't seen these folks in a year! So get your shots, wear your mask, and maybe just share a single handshake or hug on your first day back. Then break out the hand sanitizer—there's hazmat to be shipped!
Make sure your shipments are safe and in complete compliance with a full line of solutions from Labelmaster—a full-service provider of goods and services for hazardous materials and Dangerous Goods professionals, shippers, transport operators and EH&S providers.