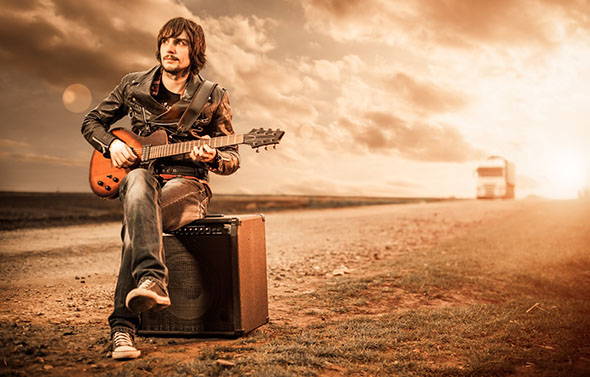 There are lots of great songs about trucking, but you won't find any of them here. This is a playlist for people who drive for a living—an hour's worth of songs, mostly about roads and highways, to help give your next drive a little more magic.
Listen to the whole playlist on Spotify at bit.ly/labelmaster-ntdaw. You may have to set up a free account.
"I've Been Everywhere," Hank Snow. Lots of songs over the years have strung together rhyming place names—looking at you, Steve Miller—but Snow's 1962 hit is still the champion. (Rolf Harris had a hit around the same time with a UK version.)
"Nothing but Time," Jackson Browne. A song about the grind of a concert tour, actually written and recorded on a moving bus that's "rollin' down 295 out of Portland, Maine." The bass drum was a cardboard box with a kick pedal.
"Outfit," Drive-By Truckers. The Drive-By Truckers don't actually sing about trucking, but they do sing great songs about living in the South. This one, a father-son message about dignity and roots, is one of their best.
"Whoever You Are," Geggy Tah. Remember this one? "All I wanna do is thank you, though I don't know who you are / You let me change lanes, when I was driving in my car." We're sure they were singing about a trucker.
"Highway 61 Revisited," Bob Dylan. It's not really a song about a highway, but we had to include it. "Howard just pointed with his gun and said, 'That way, down Highway 61.'"
"State Trooper," Bruce Springsteen. The Boss has sung some of the greatest songs ever about cars and rock & roll, but this one is all doom, dread and dark atmosphere. Play it at night, and two minutes feels like two hours.
"Drive (for Daddy Gene)" Alan Jackson. Sure, it's about a boat and a pickup truck, but everyone remembers how it felt "when Daddy let me drive."
"Autobahn," Kraftwerk. Need to let your mind wander for 23 minutes on an overnight run? Groove to the hypnotic trance-rock jam inspired by the legendary, speed limitless German highway.
"Traffic Jam," The Flying Pickets. You probably know James Taylor's silly ditty, but this funky a capella version will get you bouncing when the gridlock gets grim.
"Lost Highway," Hank Williams. Did Hank's song inspire Muddy Waters to write "Rolling Stone," which gave Mick and Keith the idea for naming their band? Something to ponder for the next two and half minutes.
"Drivin' Sister," Mott the Hoople. They hung with Bowie and influenced Queen, but Ian Hunter & the boys were one of the great early 70s glam bands in their own right. Check out the video—words cannot describe the glory of the bass player's boots.
"Graceland," Paul Simon. The magic of the road: a song named after Elvis Presley's mansion, featuring a Zulu choir named Ladysmith Black Mambazo, somehow becomes a timeless tune about love, loneliness and your first road trip with a young child.
Enjoy the playlist, and have a great National Truck Driver Appreciation week!
Labelmaster is a full-service provider of goods and services for hazardous materials and Dangerous Goods professionals, shippers, transport operators and EH&S providers. See our full line of solutions at labelmaster.com.