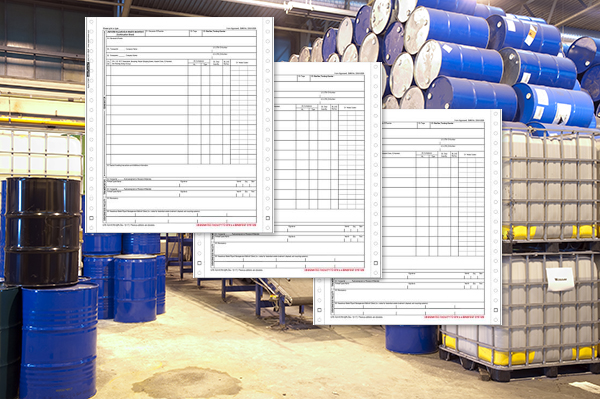 If you or your company generate or handle hazardous waste, you should be aware by now that the EPA will launch their new e-Manifest system on June 30, 2018 (only 15 days away!). The e-Manifest system is a national system to track hazardous waste electronically, and will eventually completely replace paper manifests. For at least the next 3 years anyone who creates hazardous waste manifests can continue to use paper forms; however, the EPA is changing from a 6-Part form to a 5-Part form as part of the launch of the e-Manifest system.
Do you need to acquire the new 5-Part manifest forms to help you stay in compliance on June 30th? You can order the new 5-Part manifests from Labelmaster now by calling (800) 621-5808, or they are also available for order on our website. Manifest forms are available as stock items for you to fill in your information on your own or choose the personalized version and we'll imprint your information for you. Also available in pin-feed or snap-out formats.
New 5-Part Uniform Waste Manifest/e-Manifest FAQ
What are the specific changes on the new 5-Part form vs. the original 6-Part form? Parts 1 and 2 of the 6-Part form that were previously marked for distribution to States was consolidated into 1 page to be submitted to the e-Manifest system; there is a new warning on Part 3 for receiving facilities related to their responsibilities under the e-Manifest Act; and instructions on the back of each part have updates corresponding to the user of each manifest copy.
When is the new 5-Part manifest form mandatory? The new 5-Part manifests should be used beginning June 30, 2018, but cannot be used prior to June 30th.
Can the old 6-Part manifests be used on and after June 30, 2018? The EPA has recently stated that they will accept use of the 6-Part form after the e-Manifest system is launched on June 30th, but strongly encourages users to switch to the new 5-Part form as quickly as possible. "EPA will accept Page 1 copies of the obsolete 6-copy forms for processing after June 30, 2018, but we strongly recommend that users transition to the 5-copy forms as quickly as possible. If a user wishes to continue to use the obsolete 6-copy forms, they should undertake measures to minimize confusion. For example, one approach (although not a requirement) could include applying a pre-printed adhesive label to the top copy with the accurate copy distribution language ("designated facility to EPA's e-Manifest system"). Facilities should train their manifest personnel to inspect manifests carefully to ensure they are routed properly during the time any of the obsolete manifests remain in use."
Do Generators have to register for e-Manifest? It is not required that generators register for e-Manifest by June 30, 2018. Generators who are not registered in e-Manifest can continue to use paper manifests as they do under the existing paper-based manifest system, but users should transition to the new 5-Part form on June 30th, or as quickly as possible thereafter (see above).
The EPA has more extensive FAQ information for the entire e-Manifest system on a dedicated webpage that can be found here. In addition, detailed fact sheets pertaining to each stakeholder impacted by the e-Manifest system can be found here.
---
Labelmaster is a full service provider of goods and services for the Hazardous Materials and Dangerous Goods professional, shippers, transport operators, and EH&S providers. See our full line of solutions at www.labelmaster.com or call and speak with our customer service staff at (800) 621-5808. Regulatory questions can be directed to Regs@labelmaster.com.