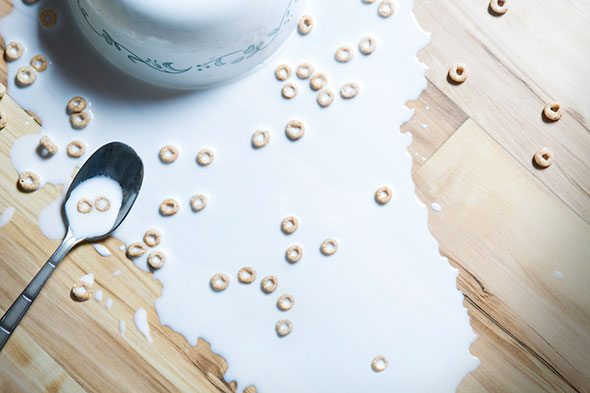 Your mother told you there was no use crying over spilled milk. But your mother probably didn't manage shipping for a chemical company.
"I hate spills," says Dave, a shipping manager at a Midwestern chemical company who asked that his last name and employer not be revealed. "I do everything I can to prevent them, and everything I can to minimize the damage when they happen.
"I read somewhere that an average spill costs a business X many dollars, but in my experience, there's no such thing as an average hazmat spill."
Dave's company prevents and manages spills with spill control resources from Labelmaster. He trusts them so thoroughly, he started bringing them home to manage spills for his family of six.
"No, they aren't hazmat spills. But with four kids and a dog, I don't think we'd pass many OSHA inspections."
Here are some of the products Dave and his family use to minimize the mess:
Spill kits
"My 7-year-old always has a glass of juice nearby, and my 4-year-old just decided he's too big for sippy cups. So we probably average about 2.3 beverage spills a day."
Dave and his wife keep a 25-gallon Spilltech Kaddie spill kit in their kitchen, and a 10-gallon spill kit in the minivan.
"The Kaddie is a lifesaver—we can get from the kitchen to the family room before the Capri-Sun has a chance to soak into the rug."
Spill decks
"The twins just turned one. They like to try to feed themselves, but you know how it goes—they get more food on the floor than they manage to get into their mouths."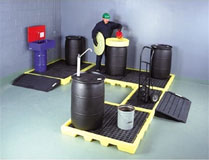 Dave set up a 2-Drum Workstation™ in his kitchen, with linked pallets turning each high chair into a quasi-dispensing station. With a sump capacity of 22 gallons, he simply hoses the unit down every evening.
"If we tried to clean up every spill as it happened, we'd be on our knees all day. This way, it's one easy clean-up a day—plus, I have to say the kitchen looks really cool."
Flexible Containment
Dave also brought home a small Black Diamond Containment Berm for the dog's area in the basement.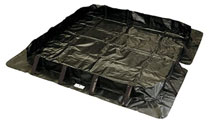 "The dog? He's just a slob. If one of the twins isn't dumping his food and water, he'll find a way to do it himself. He sheds like a polar bear on a trip to Miami. And don't get me started on the 'accidents' that happen about every 3.7 days."
Poly salvage drums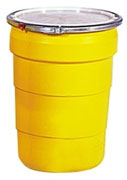 "With one-year-old twins, a standard diaper pail just wasn't cutting it. Once again, it was Labelmaster to the rescue."
The solution: a 30-gallon Ultra-Overpack® Drum.
"I thought about one of the 95-gallon Envirosalv Lock Down kits, but that seemed a little extreme. The 30-gallon drum holds the diaper pail pretty well, and it keeps the stink down to about a 2.5 out of 10."
You might not need Labelmaster's spill control products to keep your home safe and clean, but in your workplace they're indispensable. Want to learn more? Call 800.621.5808 to speak with one of Labelmaster's spill control experts.