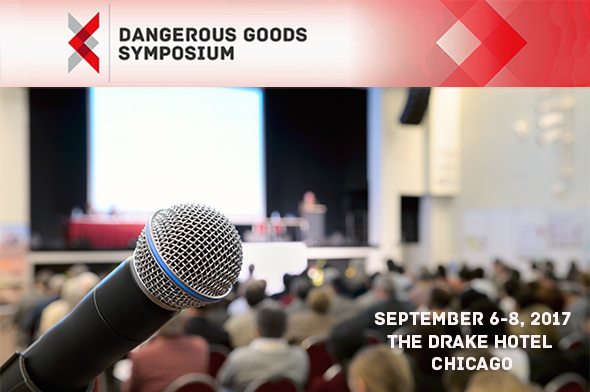 Former Chairman of the UN Sub-Committee of Experts on Dangerous Goods Jeff Hart will speak about upcoming updates to the International Maritime Dangerous Goods Code during the 12th annual Dangerous Goods Symposium, September 6–8, 2017, in Chicago.
Jeff Hart claims he was never "technically qualified" for work in Dangerous Goods, yet his 25-year career in the field includes 19 years as head of the Dangerous Goods division of the United Kingdom's Department for Transport.
"People in Dangerous Goods are committed, they're safety conscious, they're in it for the long term," he says. "And the business itself is forever changing."
Now nominally retired, Hart still serves as a technical advisor to the Dangerous Goods Advisory Council and speaks at conferences worldwide—including September's Dangerous Goods Symposium.
An IMDG preview for 2019
Hart will be giving Symposium attendees a "heads up" about changes to the International Maritime Dangerous Goods (IMDG) Code on January 1, 2019. He claims there won't be many big changes, but rather numerous revisions that align with the latest UN model regulations.
One significant shift will be what Hart describes as a new concept on "Articles (such as vehicles, machinery and equipment) Containing DG Not Otherwise Specified." It's a more generic approach; an attempt to get away from new entries for every new concept that comes along.
The real question, he says, is "What use will industry make of the opportunity?"
"Regulations in sea transport tend to be more conservative than air or land," he notes. "You've got plenty of time to load a container, so there's no excuse for getting it wrong. And if something does go wrong at sea, the crew do not have many options."
"Operators are very hot on compliance"
Hart believes most operators of maritime vessels—like air and ground carriers—are strong advocates for hazmat compliance.
"Operators of vessels are very hot on compliance. If they're found to have a consignment that isn't compliant, the responsibility for offloading lies with the operator, and there are quite substantial costs in dealing with something that really isn't their fault. There's an understandable impetus to make sure all paperwork is absolutely in place."
He claims most violations are "accidental noncompliance, rather than willful," and cites better hazmat training as the solution.
"That's why this Symposium is so helpful," he says. "You can catch up on the latest changes, and give the newcomer an opportunity to learn and network. Dangerous Goods professionals are always happy to share their experience."
 The 12th annual Dangerous Goods Symposium—September 6–8, 2017
Labelmaster will host the 12th annual Dangerous Goods Symposium September 6–8, 2017, at Chicago's historic Drake Hotel.
If you're a Dangerous Goods professional, you attend this event. It's as simple as that. You'll never find more DG knowledge or experience in the same place, anywhere. No other event offers this depth of opinions and insight into the transport of hazardous materials.
---
Labelmaster is a full-service provider of goods and services for hazardous materials and Dangerous Goods professionals, shippers, transport operators and EH&S providers. See our full line of solutions at labelmaster.com.