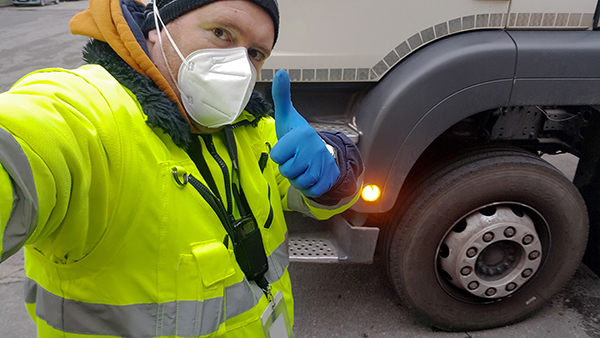 The week just concluded retained COVID-19 related regulatory activity as its primary focus as the nation began, at least in a few geographic areas, to show slight signs of improvement with decreases in the rate of rise of transmission being tentatively reported. However, all of us have a long way to go together to get through this. Labelmaster will continue to work hard to help the logistics sector in that work. Hang in there! Here's the latest:
COVID-19 Specific News
PHMSA
On April 20, the US Pipeline and Hazardous Materials Safety Administration (PHMSA) issued an Enforcement Discretion for Sanitizing and Disinfecting Products. The Notice mirrors the provisions of 49 CFR 173.6 (i.e. the Materials of Trade or MOT provisions) but extends those provisions to common carriers transporting hand sanitizers and disinfectants. The Notice does not expand the MOTs provisions beyond permitting common carriers from using the provisions. Nor does it make any changes to companies that are not considered common carriers. Private carriers are already eligible for the MOTs exception. The Notice will be in effect for 90 days from the date of issuance. Find it here.
The agency has updated its COVID-19 web page that summarizes its actions to date. Readers may wish to periodically check this page to see any new activity. Here's a link.
The agency joined several other such competent authorities worldwide in providing emergency relief for some aspects of package retesting and requalification. Such testing activities have been made difficult due the restrictions currently placed on workplaces etc. during the viral outbreak. The relief grants an extension to the manufacturing authority for packages whose recertification due dates may fall into the crisis period we are experiencing. See the specifics here.
FMCSA
The agency revised its emergency declaration providing relief under limited circumstances related to the COVID-19 outbreak from certain provisions of the hours-of-service regulations normally enforced for commercial drivers. FMCSA's expanded declaration provides for regulatory relief for commercial motor vehicle operations providing direct assistance supporting emergency relief efforts intended to meet immediate needs for:
Medical supplies and equipment related to the testing, diagnosis and treatment of COVID-19.
Supplies and equipment necessary for community safety, sanitation, and prevention of community transmission of COVID-19 such as masks, gloves, hand sanitizer, soap and disinfectants.
Food, paper products and other groceries for emergency restocking of distribution centers or stores.
Immediate precursor raw materials—such as paper, plastic or alcohol—that are required and to be used for the manufacture of essential items.
Fuel
Equipment, supplies and persons necessary to establish and manage temporary housing, quarantine.
Persons designated by federal, state or local authorities for medical, isolation, or quarantine purposes.
Persons necessary to provide other medical or emergency services.
The expanded declaration stipulates that direct assistance does not include routine commercial deliveries, including mixed loads with a nominal quantity of qualifying emergency relief added to obtain the benefits of the emergency declaration. To ensure continue safety on the nation's roadways, the emergency declaration stipulates that once a driver has completed his or her delivery, the driver must receive a minimum of 10 hours off duty if transporting property, and 8 hours if transporting passengers. The declaration also summarizes regulatory requirements that are NOT granted relief—an important caveat. See the revised declaration here.
TSA
In a rather interesting development, though one not specifically related to dangerous goods per se, the agency has issued a rule extending by one year to October 1st, 2021 the requirement for modified identification cards and driver's licenses for use at TSA checkpoints while boarding aircraft. The so-called "Real ID" program was due to go into effect in October 2020 and is now delayed. The agency states that the viral crisis has made full compliance y the original due date impossible. See the delay here.
EPA
The agency's Science Advisory Board announces its intent to convene a panel of experts drawn from the Chartered Science Advisory Board, the SAB Chemical Assessment Advisory Committee, and the Drinking Water Committee to provide rapid advice on scientific and technical issues related to the COVID– 19 Pandemic and opportunities for current and future EPA research activities that might enhance and inform the agency's current and any future responses to the virus. See the details here.
Other News
FAA
The agency published a new SAFO or safety of operations bulletin that describes certain requirements for carrying cargo aboard passenger aircraft. Although directed at operators rather than shippers, there are many items of interest in the document, including information about the handling of dangerous goods. See it here.
FMCSA
The agency published a renewal request for an ICR dealing with required reporting of training activities for drivers of longer commercial vehicles or what the agency terms LCV's. See the ICR request here.
EPA
The agency published a draft scope of evaluation for seven chemicals in the latest batch of twenty substances to be evaluated under its high-risk substances program. Included in the seven is formaldehyde, which of the group, is perhaps by far the most commonly used by commercial and industrial entities here in the United States. It's important to remember that activity under TSCA only impacts manufacturers and importers of such chemicals, and typically (though not always) in amounts exceeding 25,000 lbs. per year, and not the average user that simply buys them (even in quantity) from a domestic source for use here in the US. See the draft scope here.
Chemical Safety Board
The Board announced a new meeting set for April 29th. The meeting will be held virtually. The board assists federal agencies in investigating accidents and incidents involving hazardous chemicals. See the meeting notices and ways to participate here.
Labelmaster is a full-service provider of products, shipping and training software, and professional consulting services to assist the DG and HS&E professional to comply with national and international regulations. See our full line of solutions at www.labelmaster.com