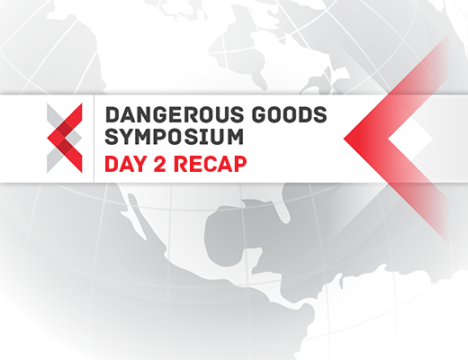 Technology was one of the dominant themes of the 4th annual Dangerous Goods Confidence Outlook, the results of which were revealed during Day 1 of the 2019 Dangerous Goods Symposium. Among the survey's findings:
55% of companies rely on manual processes, at least in part, for shipping hazmat.
45% called their ability to centrally store master data "sporadic and inconsistent."
Only 29% said their ERP system possessed all the DG functionality they needed.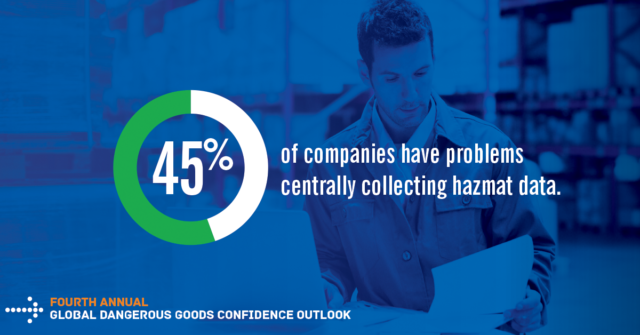 Day 2 also had a strong focus on technology – not the technology companies may lack, but the opportunities technology can help them pursue.
The opportunities of DG technology
Four Day 2 sessions highlighted the difference technology can make for individual shippers and the Dangerous Goods supply chain in general.
Frank McGuigan, CEO of Transplace, spoke about "Innovation and the Role of TMS," specifically about four key advantages a strong transportation management system can give hazmat shippers: visibility, access to capacity, avoiding disruptions and optimization.
He said, "Knowing the location of a DG shipment once or twice a day is no longer good enough." He also described the exciting possibilities of blockchain for driving compliance through the multiple handoffs in today's decentralized supply chain.
Decentralization was also a key theme for Bob Liva, who manages Alliances and Partnerships for Pierbridge. His presentation on "Effective Omnichannel Shipping Strategy" discussed the difficulty and rewards of maintaining compliance along the "endless aisle," where shipments can originate from almost anywhere and arrive at their destinations via multiple channels.
"How do you get it right?" he asked. "Know your products, do continuous training and use automated, standard, repeatable, reliable solutions to keep you in compliance." He also stressed the benefits of integrating the Pierbridge platform with Labelmaster's DGIS, which won't allow shipments to go out without being completely compliant.
Todd Coy, Vice President at KBI, described his company's advances in "Lithium Battery Recycling and End of Life Transport."
"Lithium batteries are sexy – they're dressed up cool, they're mysterious and they can be dangerous," he said. "There's a misunderstanding that there is no lithium battery recycling in the U.S., but we recycled our first lithium battery in 1996, and we have permitted capacity of 12 million pounds a month."
Finally, a demonstration of Labelmaster's beta version 3D training module was a tantalizing glimpse at the future of hazmat training – letting users make key decisions in an immersive warehouse environment. One observer said, "This is the technology the next generation expects."
Global regulatory updates
Experts from three continents covered the global regulatory landscape.
Live from LabelmasterFest!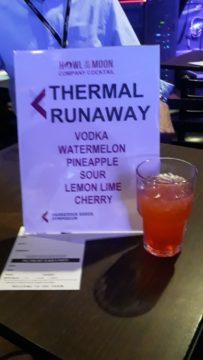 Thursday night at Symposium brings LabelmasterFest – a party where the DG community can let loose, network and connect with friends old and new. Here's what a few attendees had to say:
"Labelmaster never disappoints with the Symposium. I make time to come every year to learn about new regulations." – Cynthia Bucci, Hazard Communication Specialist, Central Garden & Pet
"I've really enjoyed it. I took a lot more notes than I expected – there's so much you think you know but you don't. Terry Guo's session was really informative — we ship a lot to China, and he answered a lot of questions for me." — Jeff Blair, Transportation Analyst, 4imprint
"It's a place where you learn instead of having people preach to you. It's the only hazmat event I go to. It's always well put together." — Steve Hawks, Hawks Logistics
"The breakout session on when the inspector shows up was very hands on, very real world. The takeaway is to be organized and do the preparation before you have an inspection." – Dennis Amato, Supply Chain Compliance Manager, Walgreens
"The value is the regulatory updates and the technology updates. The inspector session gave people the opportunity to be the inspector themselves. I deal with all our inspections, so it was great to see other people's knowledge." — Pete Breski, Global Manager Supply Chain Stewardship, PPG
"It's a great chance to meet other people. In this business there's always something weird that comes up, so I like knowing someone who can help with alternative ideas. This is such a supportive community." — Adrienne Mesick, DG Coordinator, Plant Site Logistics
Look for the Day 3 recap next week!
Labelmaster is a full-service provider of goods and services for hazardous materials and Dangerous Goods professionals, shippers, transport operators and EH&S providers. See our full line of solutions at labelmaster.com.