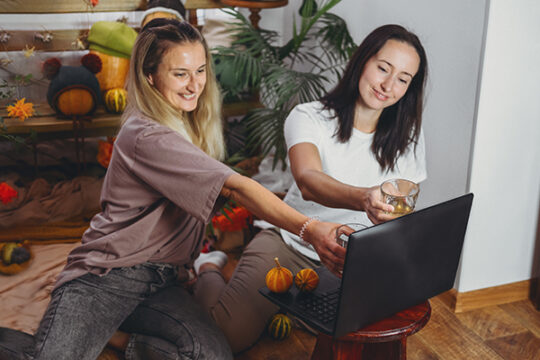 This week, a lot of Americans will sit down to much smaller Thanksgiving dinners than usual. It's been a challenging year on so many levels. Nevertheless, they will raise their glasses and say a toast to the things they're grateful for.
If Labelmaster were hosting Thanksgiving, here's how our toast might go:
Here's to the nation's supply chain workers, who were designated as essential back when the pandemic first hit. Thanks to them, we've been able to get almost everything we've wanted or needed all year long. Even toilet paper.
Here's to e-commerce shippers. In the second quarter of 2020, e-commerce sales were up 44.4% over the same quarter in 2019. Forty-four percent! That's got to be one reason why, even though our economy is still hurting, some freight indices are showing their strongest performance in two years. Monthly intermodal freight volume is up 10% over a year ago.
Here's to the pandemic's hazmat heroes—people and organizations we know who went to extraordinary lengths to give help where it was needed most in the early days of the pandemic.
Here's to our own Labelmaster operations teams, who remained working on-site in those early days (and ever since) to keep Dangerous Goods resources moving out the door to shippers worldwide.
Here's to the safety of all the workers in the hazmat supply chain, who come in to work (while millions of us shelter at home) to make sure 1.4 million Dangerous Good shipments every day get where they need to go safely and compliantly.
Here's to the hazmat trainers who had to figure out new ways to train all those hazmat workers, because even in a pandemic it's crucial that everyone who handles Dangerous Goods knows what to do (and what not to do) to keep the supply chain safe.
Here's to the regulators at PHMSA, OSHA, FAA and FMCSA—not to mention IATA, ICAO, IMO and dozens of other bodies. They managed their standard (but difficult) task of balancing safety with the changing demands of commerce while also navigating the highly non-standard (and even more difficult) challenges of doing it without meeting face-to-face.
Finally, here's to all our customers. Knowing you trust us to help you grow your business compliantly fills us with DG—Deepest Gratitude.
Cheers!
Labelmaster is a full-service provider of goods and services for hazardous materials and Dangerous Goods professionals, shippers, transport operators and EH&S providers. See our full line of solutions at labelmaster.com.