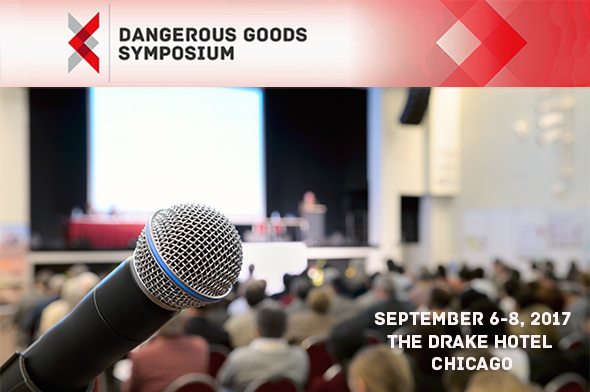 Longtime Dangerous Goods veteran Geoff Leach will participate in the Technology & Training workshop during the 12th annual Dangerous Goods Symposium, September 6–8, 2017, in Chicago.
"I get very cross when people say Dangerous Goods is dull," says Geoff Leach, founder and director of The Dangerous Goods Office, Ltd. "How can any subject be dull when, if we get things wrong, an aircraft and all its occupants could be lost?
"People at the Dangerous Goods Symposium are very passionate about the subject and full of enthusiasm. They're the people I want training."
Training: fun, interesting and dynamic
At the Symposium, Leach will discuss his involvement with a new series of training modules from the TEASAS Aviation Training Academy.
He says, "It's a new concept in training, based on a scientific principle that people need to see something new happen every seven seconds. There are seven modules, each seven minutes long. I'm working against a green screen—it takes an hour and a quarter to shoot one minute of material.
"Training needs to be fun, interesting and dynamic. In my course, people have to physically assemble packages, rather than just read about it on a PowerPoint slide—sometimes against the clock to add a little competition!
"With competency-based training (CBT), you're not just evaluated on your ability to pass an exam when you may never have stuck a label on a box. You have to demonstrate competency."
Leach supports CBT, but has concerns as well. "It is not without challenges. For example, if you have a class of students who all ship different things, as you do in a conventional 'open' course, there won't be time to establish the competence of everyone in every aspect relevant to them; the fact that you can fill in a shipper's declaration in a classroom doesn't mean you are competent to ship explosives! And who in the company is going to carry out ongoing assessment of the students when they return to work if they themselves are not knowledgeable in the subject?"
He points to other challenges with which any DG trainer will be familiar. "Companies don't want to release staff for longer than necessary. And when budgets are reduced, training is often the first thing that gets cut."
39 consecutive Dangerous Goods Panels
Leach has been a leading figure in the DG industry for almost 30 years. He joined the United Kingdom Civil Aviation Authority's Dangerous Goods Office in 1990, and in 2002 became head of the Office. He was also elected chairman of the ICAO Dangerous Goods Panel (DGP), and has attended all 39 meetings since 1992.
He continues to attend DGP meetings on behalf of the Dangerous Goods Advisory Council of the U.S., and chairs the IATA Lithium Battery Workshops.
When asked if he believes hazmat transport has grown safer over his career, he replies, "Yes, it's more safe, but there are still people who either can't or won't comply.
"Take lithium batteries. We're making safe requirements even safer. But if you increase the cost of compliance too much, some people who are keen to comply may not be able to afford to. Incidents have invariably been caused by non-compliance, so we need to strike a balance. Shippers who ignore the requirements now won't suddenly comply with increased regulations.
"There's never been an incident where batteries were in compliance—only when they don't comply. We need more enforcement."
The 12th annual Dangerous Goods Symposium—September 6–8, 2017
Labelmaster will host the 12th annual Dangerous Goods Symposium September 6–8, 2017, at Chicago's historic Drake Hotel.
If you're a Dangerous Goods professional, you attend this event. It's as simple as that. You'll never find more DG knowledge or experience in the same place, anywhere. No other event offers this depth of opinions and insight into the transport of hazardous materials.
---
Labelmaster is a full-service provider of goods and services for hazardous materials and Dangerous Goods professionals, shippers, transport operators and EH&S providers. See our full line of solutions at labelmaster.com.