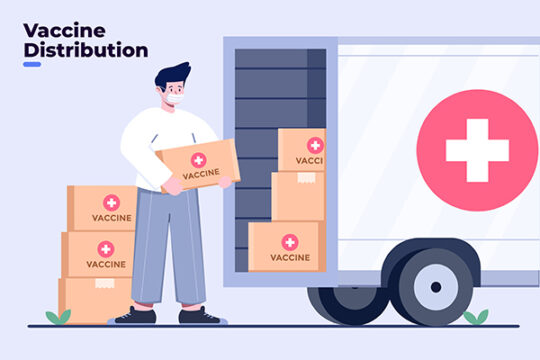 Sometime in the next few weeks or months, a COVID-19 vaccine will likely be approved by the FDA (and similar bodies in other nations). That will be very, very good news.
The bad news is that those vaccines won't just magically appear at your nearest pharmacy. In fact, safely transporting hundreds of millions of vaccine doses will be a massive and phenomenally complex cold chain logistics challenge.
Supply chain organizations are already gearing up to meet this challenge, and Dangerous Goods will play a role. We spoke with Labelmaster Senior Manager Jay Johnson about what it will take to make the COVID-19 vaccine available to Americans coast to coast. "I'm intrigued with the overwhelming difficulties involved," says Johnson, "It's not only an amazing task to develop the drug, but the undertaking of delivering drug to treat people all over the planet is an overwhelming logistical challenge."
Temperature-controlled shipping and storage on an imposing new scale
There's a lot we still don't know about the COVID-19 vaccine. The federal government's Operation Warp Speed is paying some pharmaceutical companies in advance to produce and deliver 300 million doses, but we don't know which vaccine currently in development will be the first to market, and it's possible several varieties may be approved. Some vaccines for which we have not prepaid might even become available first.
What we do know, however, is that most of the vaccines being developed will have to be kept very cold. And keeping 300 million of anything at consistently cold temperatures requires logistics on a scale that has never been done before.
"The vaccines will be temperature-controlled, and originally there was not enough cold storage on the planet," says Johnson. "Industry and the military have been scrambling to create temperature-controlled opportunities. Planes and procedures are being adjusted to increase lift capacity to move vaccine doses on dry ice, and that is just to get it to the distribution centers. Transporting doses from the distribution centers to the dosing locations will be a whole different challenge."
Making distribution even more complex is that many of the vaccines in development will require two doses, two to eight weeks apart—and your second dose might have to "partner" with your first. Johnson says, "Imagine you wanted new tires for your car, but you could only get two at a time, and the second two had to be the exact same lot number as the first two. That's what it'll be like."
Keeping track of who, when and where patients have been dosed will be difficult, but we are lucky that many are stepping up to the challenge.
Vaccines will require dry ice shippers
Aside from the scale required, there is nothing particularly new or challenging about the packaging that will be required to ship COVID-19 vaccine doses.
Johnson says, "A properly insulated dry ice shipper will keep contents at -70°C, and Labelmaster offers a number of solutions shippers will be able to use.
"Dry ice sublimates—a word everyone should know—directly from solid to gas, which creates a problem with displaced oxygen in enclosed spaces. The trick to keeping things cold is a combination of active and passive temperature control. Active control is a refrigerator or reefer truck, something that uses electricity. Passive temperature control uses phase change materials and insulation to lock in temperatures. It is like using ice cubes to cool your drink.
"Vaccine shippers will have to use a combination of solutions to keep doses at acceptable temperatures from manufacture to patient."
Hazmat implications for COVID-19 vaccine shipping
Unlike COVID-19 test samples from patients, vaccines are not classified as Dangerous Goods. "Vaccines aren't pathogenic viruses," Johnson explains. "So they are neither Category A nor Category B infectious substances."
Shipping vaccines, however, will likely require some Dangerous Goods labeling, documentation and training. Dry ice is a fully regulated Class 9 hazmat (UN 1845) when shipped by air. Certain vaccines may actually need to be shipped with cryogenic liquid nitrogen, which is a Class 2 non-flammable gas (UN 1977).
Regarding dry ice, IATA Assistant Director Cargo Safety & Standards Dave Brennan says, "To help to facilitate the transport of the COVID-19 vaccine when it becomes available, IATA is working closely the with regulatory authorities and aircraft manufacturers to identify if the quantity of dry ice carried on an aircraft can be increased without affecting the safety of flight crew and ground staff."
It's also important to note that every unit containing dry ice and/or vaccine will have a lithium battery-powered datalogger in it, for either temperature control, theft or anti-terrorism. Brennan says, "We are also working closely with ICAO and the ICAO Dangerous Goods Panel to review the requirements that apply to the transport of cargo that contains lithium battery-powered data loggers / cargo tracking devices to identify if these requirements can be simplified for the transport of vaccines."
(If you're interested in more details, IATA has just released its Guidance for Vaccine and Pharmaceutical Logistics and Distribution.)
Johnson says "I'm amazed at people's ability to do insurmountable things on short notice and get no credit for it. Logistics managers' ingenuity will be applied on a global scale. No logistics manager is ever going to win a Nobel Prize for transporting vaccine, but they're going to make a difference saving lives."
Questions about packaging for COVID-19 test samples or vaccines? Contact Jay Johnson or call Labelmaster at 800-621-5808.
Make sure your shipments are safe and in complete compliance with a full line of solutions from Labelmaster—a full-service provider of goods and services for hazardous materials and Dangerous Goods professionals, shippers, transport operators and EH&S providers.