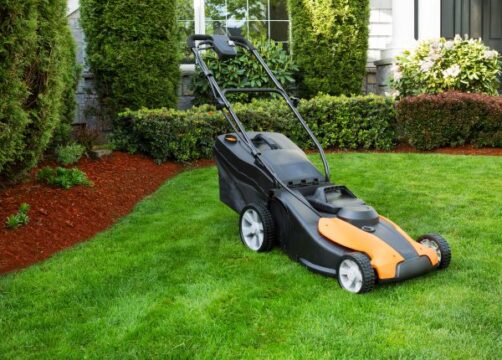 Most normal people greet spring and summer with unbridled joy—and this year, with public life re-opening after a year of pandemic precautions, people are excited for warmer weather like never before. Dangerous Goods pros feel that enthusiasm, too. But we're also prone to see summer approaching and say Holy shipment! There are lithium batteries freaking everywhere these days!
That's because, pretty much everywhere you look this time of year you see people using powerful lithium battery devices—mowing their lawns, fixing their decks, riding their bikes and taking long drives in the country.
We think that's awesome—and a little scary. Because for all their convenience and power, lithium batteries are some of the most vexing items to ship in the Dangerous Goods galaxy—and there are more shippers shipping them than ever before.
So let's celebrate the ways people use lithium batteries, while reviewing a few of the reasons hazmat experts tend to worry about them. Because that's just what we do.
Lithium batteries on the go
Normal people think:
Look around—on a street or a trail near you, there's someone riding an e-bike, with a powerful battery augmenting their own leg power. With people tooling around on e-bikes for fun and using them as serious transportation, the global e-bike market is predicted to grow nearly 12% a year for the next few years. In Europe alone sales will more than quadruple from 2019 to 2030.
The Dangerous Goods pro thinks:
I sure hope all those bike shops are giving their employees lithium battery training so they can handle returns safely and compliantly!
Normal people think:
I can't believe how many electric cars and hybrids I see on the road—from entry-level stuff all the way up to Jaguars and Porsches! The global electric vehicle battery market is expected to grow 18% a year from now through 2025. Engineers have come a long way toward delivering performance for people who care about protecting the environment.
The Dangerous Goods pro thinks:
Who's going to make sure all those massive lithium batteries are recycled correctly? Do we have the capacity to recycle them sustainably and safely?
Lithium batteries around the house and yard
Normal people think:
My husband got a rechargeable power tool set for Fathers' Day, and now he's unstoppable! Without cords trailing him around all the time, he's fixed stuff that's been broken for years and started building things we don't even need. I mean, a bookshelf for the bathroom—what's up with that?
The Dangerous Goods pro thinks:
If your husband ever needs to return any of those rechargeable battery packs as damaged or defective—or if they're ever recalled—I hope the retailer protects its brand reputation by shipping the batteries or devices back to the manufacturer in advanced Obexion Max packaging.
Normal people think:
Lots of people around the neighborhood are using battery-powered lawn movers, trimmers and leaf blowers. And why not? They're a lot quieter than gas-powered machines, and you never have to worry about gasoline. Win-win!
The Dangerous Goods pro thinks:
I hope the retailers who sell those machines have a smart lithium battery reverse logistics plan in place. Those large format batteries are usually fully regulated hazmat, so they need to educate their customers that rules exist and guide them on return shipping requirements. After all, if something goes wrong with their return, the customers will blame them.
Lithium batteries at the barbecue
Normal people think:
I'm lighting my patio with battery-powered lights! I'm getting my grille going with a battery-powered charcoal starter! And then I'm cleaning up with a battery-powered grille cleaner!
The Dangerous Goods pro thinks:
E-commerce exploded during the pandemic, and it's awesome to see so many innovative companies finding markets for their lithium battery-powered products. But I'm worried that some of them, frankly, have no idea what they're doing. I hope they're getting good advice!
We Dangerous Goods pros don't really spend all our time worrying—mostly because so many manufacturers, shippers and logistics providers make hazmat compliance a top priority. If you'd like to help your friendly neighborhood DG professional sleep better this summer, get in touch with our team of experts to make your DG compliance a competitive advantage!
Make sure your shipments are safe and in complete compliance with a full line of solutions from Labelmaster—a full-service provider of goods and services for hazardous materials and Dangerous Goods professionals, shippers, transport operators and EH&S providers.