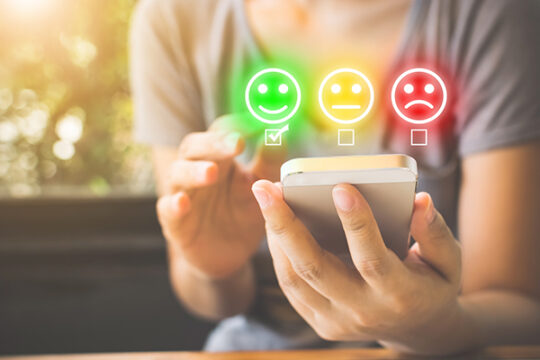 With the pandemic accelerating seismic shifts in the global supply chain, operations that manufacture, handle or ship Dangerous Goods have leaned on their experts like never before.
In recent weeks, we at Labelmaster have been examining the topic of DG expertise pretty closely ourselves. We've written about finding and training internal subject matter experts, and hosted a popular webinar on the same topic. And we've interviewed our own deep bench of hazmat experts about their Dangerous Goods origin stories.
A couple of weeks ago, we decided to explore the idea even further with a not-totally-serious poll on LinkedIn. We asked, "How would you rate your Dangerous Goods expertise?" Here are the results: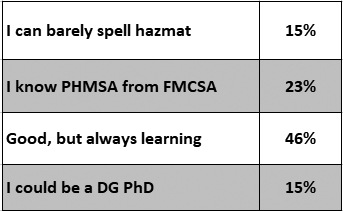 We also followed up with some of the respondents. Here's what they said.
"I can barely spell hazmat"
No surprise—no one who described their skills this way answered our follow-up questions. But it's good to know there are still folks out there who appreciate hazmat humor.
"I know PHMSA from FMCSA"
No one who gave this response wanted to follow up, either. But knowing the difference between these two important U.S. regulatory bodies is a key milestone for newbies to the profession.
"Good, but always learning": 46%
This is where we started to get interesting responses.
David Collings, Director of Procurement & Transportation Compliance at Visible Supply Chain Management in Alpine, Utah, said he's been motivated to continuously grow his DG expertise because, "In all honesty, I find DG interesting and a topic that most people don't want to touch. Being able to read regulations and apply them in a business situation is a valuable skillset that has opened doors for me in my career."
Terrence Lawyer, Logistics Operation Analyst at Porsche NA in Fairburn, Georgia, said he's motivated because "The regulations are always changing and I want to make sure I keep up with them all." (For the record, he also said it is super-cool to work for Porsche: "I learn about all the new cars and help move the company forward by guiding them with proper lithium battery handling advice for their new electric automobiles.")
Asked where he feels he can still grow his expertise, Arastoo Badri, DGSA, Head of Transport Safety & Corporate Safety Advisor at Clariant in Muttenz, Switzerland, said "Through classroom as well as online training, industry events and conferences, participation in committees and through the specialty press. As I'm coming from airfreight, I can still grow my expertise in road, rail, and sea and inland waterways."
Collings adds, "I switched companies a couple years ago, and we are a heavy USPS shipper. Learning the unique USPS regulations has kept me growing and learning. We also deal with items that I haven't in past careers, so it has given me opportunities to learn."
Lawyer has a suggestion for others who want to advance their DG knowledge: "Read, read, and more reading. Whenever there are seminars that you can attend, always try to follow."
"I could be a DG PhD"
Paula F. Reavis, Hazmat/DG Trainer and Owner at Reavis Compliance Company in St. Louis, Missouri, says she could be a PhD in DG—if there were such a thing.
"I'm not even sure there is a bachelor's or master's degree in transport, so a PhD is a bit of a stretch," she said. "In the past, most people doing transport were just given it as part of a job description. They inherited it in a way. I do believe a degree program is an interesting idea and would love to see it."
She says she's motivated to continuously grow her DG expertise because "The regulations are always changing, and it is often a new challenge every day to keep up with them."
Her top recommendation for others to grow and learn the business: "Get to know and build relationships with veteran transporters. There is a knowledge base there that is often untapped by new people. Also, find a way to attend as many conferences, meetings and summits as you can.
"Finally, take the time to learn."
You're a phone call away from Dangerous Goods expertise at the Labelmaster Regulatory Hotline. You can also get the expertise you need from the top consultants in the industry at Labelmaster Services.
Make sure your shipments are safe and in complete compliance with a full line of solutions from Labelmaster—a full-service provider of goods and services for hazardous materials and Dangerous Goods professionals, shippers, transport operators and EH&S providers.