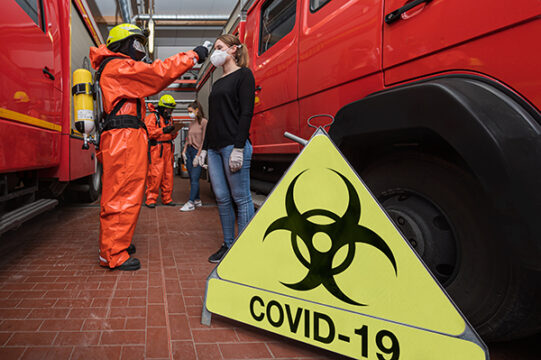 If we were to write about all the supply chain heroes of the COVID-19 crisis, this post would be hundreds of pages long. The people who keep our stores full of food, our plants supplied with parts and our hospitals stocked with critical supplies? They can't shelter at home—and we can't function without them.
(Let's not forget a sincere shout-out to our own Labelmaster operations teams, who have remained working on-site to keep Dangerous Goods resources moving out the door to shippers worldwide.)
Still … there are some heroes we absolutely have to recognize—people and organizations we know who have gone to extraordinary lengths to give help where it's needed most. Here are two of those stories.
Free disinfectant for Illinois first responders
Imagine you're a law enforcement officer or an EMT. You want to protect yourself and your family from COVID-19, but sheltering at home isn't an option for you. Everyone who gets into your car or ambulance increases your exposure to the virus. You'd probably want to wipe down everything with disinfectant every opportunity you had, right?
But what if your department runs out of disinfectant?
That shortage is now a stark reality for first responders everywhere. Disinfectant (like hand sanitizer) has become a scarce commodity just when it's needed most.
For Illinois' Spraying Systems Co., this situation was simply unacceptable—and they were in a position to help. Their PathoSans/Klarion Technologies division makes a system that generates an environmentally responsible disinfectant containing hypochlorous acid, and they wanted to make the disinfectant available to as many first responders as possible.
"We'll generate as much as we need."
Easier said than done. The company had an EPA registration to sell the system that makes the disinfectant, but could not distribute the disinfectant itself, even for free.
"We had data and knew our disinfectant was effective against human coronavirus," says Bill Kohley, President of PathoSans/Klarion Technologies. "We could produce 5000 gallons a day, but we couldn't give it away, and we couldn't possibly deploy our system into all the facilities that needed it. We recognized we could meet a huge need, but we needed to get lawmakers involved."
Long story short, the PathoSans/Klarion team was able to enlist help from Illinois Governor JB Pritzker's office, as well as help from Illinois State Senators Elgie Sims and Tom Cullerton to get a special approval via the Illinois Department of Agriculture to distribute the disinfectant to Illinois users.
Kohley says, "Since last week, police departments and fire departments have been stopping by all day. We're seeing between 500-1000 gallons go out the door every day. We'll generate as much as we need so they can come back for refills. As long as this crisis is going on, they're going to get free disinfectant.
Hazmat heroes at GEODIS
Our longtime friend Erin Gaul, Sr. EHS Hazardous Materials and Hazardous Waste Manager at GEODIS, wanted to give three of her coworkers special notice for "working in overdrive to mitigate the pandemic crisis, helping us replenish grocery stores, drug stores and ecommerce operations."
Here's what she says about them:
"Cody DeGrush works every day to help all the new customers who are developing anti-bacterial products—hand sanitizer, wipes, etc. He's also been instrumental overseeing the development of personal safety kits for GEODIS employees, containing hand sanitizer, anti-bacterial wipes, cloths, rags, gloves and masks."
"Torsten Helk has been developing a better e-learning automated training system—a voiceover program with electronic testing and certification within our GEODIS Americas learning center."
"Troy McCreery has been absolutely instrumental in developing the GEODIS Americas COVID 19 task force, which is providing guidance and instruction to all GEODIS operations. He monitors all new reports, schedules all calls, mandates 'stay away' status, writes the processes and is working about 20 hours a day supporting North, Central and South America operations."
We're proud to be associated with organizations such as Spraying Systems and GEODIS in these challenging times. Who has been a hero in your line of business? Please share their stories with a comment below! Make sure your shipments are safe and in complete compliance with a full line of solutions from Labelmaster—a full-service provider of goods and services for hazardous materials and Dangerous Goods professionals, shippers, transport operators and EH&S providers