Week of April 12th, 2021
Linking technology news with Dangerous Goods compliance
More than ever businesses are looking to innovative strategies and technology solutions to increase supply chain efficiency and keep operations running smoothly when disruptions arise.
To help companies keep a pulse on technology trends impacting business and the movement of dangerous goods throughout the supply chain, Labelmaster has launched "Supply Chain Moves," a bi-weekly report linking the latest technology news to dangerous goods compliance.
Let's examine the recent supply chain technology and industry news.
---
TECHNOLOGY
---
3PL TECH
---
Technology & Dangerous Goods Compliance
Supply chain risk continues to be a hot topic. Disruptions due to pandemic and the Suez Canal blockage have put the supply chain in the headlines, and President Biden even published an executive order focused on America's supply chains.
In a recent article, Bridget McCrea examines how shippers are increasingly focused on assessing potential risks within their networks and using technology to "de-risk supply chains." McCrea highlights the growth and evolution of risk management software, which helps companies do a better job of finding potential issues and fixing them before they turn into debilitating problems. But effectively managing risk requires strong collaboration and information-sharing.
According to Steven Melnyk, Ph.D., professor of supply chain and operations management at Michigan State University, "Most companies do a poor job of managing the entire risk associated with their supply chains, which is why collaborative risk management is beginning to emerge as a strong defense against potential disruption. It's not simply you; it's you and your supply chain. By working together with your supply chain partners, you'll be able to identify, evaluate and act collectively. Otherwise, by the time the problem gets to you, in many cases, it's already too late to do anything about it."
While there is always some risk involved in the supply chain, managing dangerous goods (DG) adds an even greater level of complexity and risk. As supply chains become more and more complex, and continue to integrate more business partners – therefore increasing the handoffs of DG – it's challenging to know how those partners are managing the intricacies of DG regulations. In fact, a recent Labelmaster survey found that 73% of DG pros wish others across their supply chain were as compliant as their company.
To effectively mitigate supply chain risk, it's important for businesses to not just plan for major, global disruptions (like a pandemic), but to proactively take steps to ensure the safe, compliant and efficient management of DG – within their own organization as well as their supply chain partners.
According to Labelmaster's Robert Finn, "The COVID-19 pandemic has shone a spotlight on areas of DG management that must be addressed within many organizations. As they look to move forward in the 'new normal,' it is important for senior leadership to recognize the critical role that DG management plays in maintaining a smooth, resilient and compliant supply chain, and that it can actually be a competitive advantage that drives revenue, reduces risk and enables better customer service. Then they must invest in the technology, training and infrastructure that DG pros need to manage DG effectively and efficiently."
To learn more about dangerous goods software or how to establish a safer, more compliant supply chain, visit https://www.labelmaster.com.
Have questions about dangerous goods transport? Call the Labelmaster Regulatory Hotline at 1.800.621.5808.
---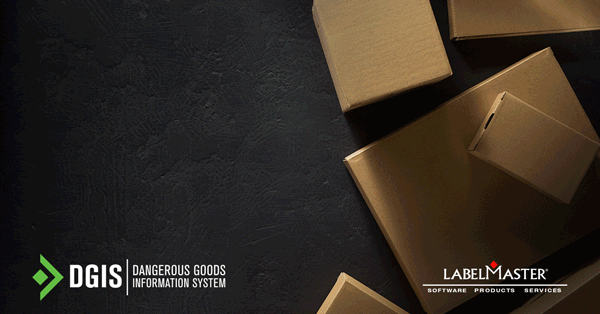 You don't have to be tech savvy to use the industry's most robust, flexible, and advanced hazmat shipping software. DGIS is so simple to use, it makes your job easier—while it helps keep your shipments from being rejected by carriers or regulators.
See for yourself! Tell us a particular UN Number you ship and we'll create a quick personal video of DGIS making it simple.

---