Week of April 26th, 2021
Linking technology news with Dangerous Goods compliance
As more goods are being purchased online, shippers are being forced to adapt to new challenges, or finally address previously ignored gaps within their supply chains.
To help companies keep a pulse on technology trends impacting business and the movement of dangerous goods throughout the supply chain, Labelmaster has launched "Supply Chain Moves," a bi-weekly report linking the latest technology news to dangerous goods compliance.
Let's examine the recent supply chain technology and industry news.
---
TECHNOLOGY
---
3PL TECH
---
Technology & Dangerous Goods Compliance
The e-commerce market continues to thrive and doesn't show any signs of slowing down. As more consumers shop online, shippers need to be aware of the ramifications for any dangerous goods (DG) shipments they may now be processing or are processing unsafely or incorrectly.
The foundation for understanding the implications that DG shipping may bring starts with understanding dangerous goods themselves, and what regulatory requirements may apply. Only then can shippers take a more strategic approach to DG management.
In a recent ProShip ParcelCast episode, ProShip's Justin Cramer and Clint Boaz and Labelmaster's Kristen Dapore examine current DG shipping trends and challenges, including how to classify them, how to store the related data, how to safely execute a shipment and why automating that process is so important and advantageous to your business.
A key component to efficient and compliant DG shipping is automation. DG shipping can be a complex and time-consuming process and, as a result, inefficiencies, errors and delays can likely be found across each supply chain partner. Utilizing DG shipping software can help automate and streamline the process by providing instant, accurate and compliant DG shipping documentation while validating shipments against the latest regulations.
In addition to automating shipping processes, utilizing DG shipping technology helps organizations have more complete and accurate master data. And without proper data, no technology can work to its fullest potential.
Want to know more about shipping DG? Check out [ProShip ParcelCast] Episode 8: Do This, Not That: Dangerous Goods Shipping 101.
To learn more about dangerous goods software or how to establish a safer, more compliant supply chain, visit https://www.labelmaster.com.
Have questions about dangerous goods transport? Call the Labelmaster Regulatory Hotline at 1.800.621.5808.
---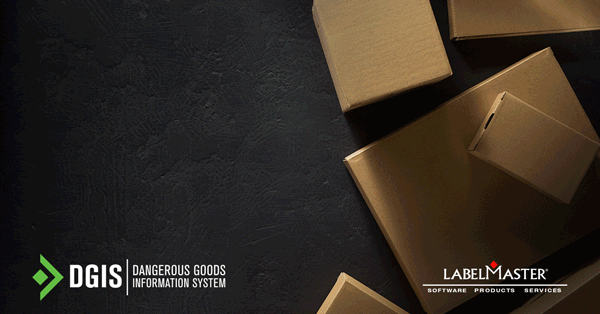 You don't have to be tech savvy to use the industry's most robust, flexible, and advanced hazmat shipping software. DGIS is so simple to use, it makes your job easier—while it helps keep your shipments from being rejected by carriers or regulators.
See for yourself! Tell us a particular UN Number you ship and we'll create a quick personal video of DGIS making it simple.

---