Week of December 12th, 2022
Linking supply chain news with dangerous goods compliance
As 2022 comes to an end, businesses in all industries are looking to the trends and challenges that will shape the new year – especially when it comes to the supply chain. 
Let's examine some recent industry news.
---
SUPPLY CHAIN NEWS
Six Logistics Trends to Watch for in 2023: As the transportation and logistics industry emerges from the global pandemic, we now face new challenges and an uncertain economy in the coming year. Following are six trends we can expect to see in 2023.  
Trends to Watch in Supply Chain Security: Lack of transparency and mistakes are creating massive problems, but new rules and solutions are moving things in the right direction. Check out the trends to be on the lookout for in supply chain security. 
---
OUR PERSPECTIVE
Apply lessons learned from the past year. The past year spotlighted the need for increased automation, better data, greater visibility and enhanced training – across all areas of the supply chain, including DG management. These needs cannot be overlooked as companies look to keep pace with the changing and complex supply chain landscape. 
DG will still be regulated. While no one knows exactly what the next year will bring, one thing we can count on is that DG will still be regulated. Regulations may change but compliance will remain a critical part of the supply chain. Organizations that take steps to safe and compliant DG shipments across the supply chain position themselves to keep goods moving and adapt to disruptions in the new year.  
Improving compliance doesn't have to be difficult. Many organizations have DG process and infrastructure gaps that must be addressed moving forward. Here are four practical steps to creating a better DG supply chain.
To learn more about Dangerous Goods software or how to establish a safer, more compliant supply chain, visit https://www.labelmaster.com.
Have questions about Dangerous Goods transport? Call the Labelmaster Regulatory Hotline at 1.800.621.5808.
---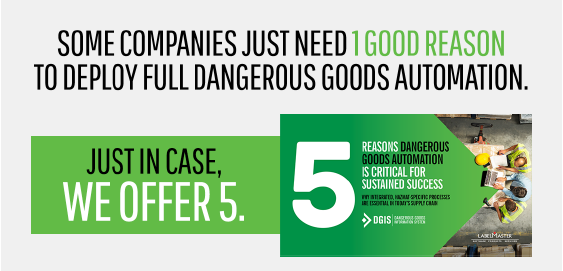 Automation is the key to handling today's supply chain challenges. But without true Dangerous Goods automation, you may be operating at a competitive disadvantage.
Integrating Labelmaster's DGIS with your existing TMS, ERP, WMS or OMS platforms puts Dangerous Goods information in the same window as all your other shipping information. Hazmat shipments become as simple as non-regulated shipments—a seamless part of your normal workflows.
Our new eBook explains how integrating DGIS with your existing automation platforms can help your organization sustain success in today's supply chain.


---