Week of February 15th, 2021
Linking technology news with Dangerous Goods compliance
Although 2021 is already in full swing, organizations still continue to examine the supply chain and logistics trends that will impact their business moving forward. And for many, the focus revolves around the increasingly important role of technology.
To help companies keep a pulse on technology trends impacting business and the movement of dangerous goods throughout the supply chain, Labelmaster has launched "Supply Chain Moves," a bi-weekly report linking the latest technology news to dangerous goods compliance.
Let's examine the recent supply chain technology and industry news.
---
TECHNOLOGY
---
3PL TECH
---
Technology & Dangerous Goods Compliance
Two common themes found in many of the articles examining 2021 supply chain and logistics trends and predictions are digital transformation and the critical role of data. Unfortunately, these are two areas that continue to be real challenges for dangerous goods (DG) companies.
In a recent SupplyChainBrain article, Labelmaster's Pia Jala notes that 28% of DG professionals are still doing everything manually. While another SupplyChainBrain article from Mario Sagastume highlights that 45% of DG pros said that data collection is "sporadic, inconsistent or not done at all" within their organizations.
This lack of complete and reliable data can be due to several factors: reliance on manual processes, multiple hand-offs across the supply chain, disparate data and systems, fragmented assembly and delivery and more. But no matter the reason, not having important information is especially difficult when shipping DG, which is increasingly complicated due to ever-changing regulations that can vary by country, transportation mode, item type and more.
Because a product's components, makeup, dimensions and origins impact every process required for safe and compliant DG shipping – including packaging, labeling, documentation, permits and transport of goods – DG companies (and their supply chain partners) need access to data. And DG pros know it, as 88% said "accurate and complete DG shipment data" is important to the future of their organization.
As we look forward to 2021 (and beyond), access to complete and accurate master data will be critical to streamlining compliant hazmat transport – and unlocking efficiencies across supply chains.
To learn more about dangerous goods software or how to establish a safer, more compliant supply chain, visit https://www.labelmaster.com.
Have questions about dangerous goods transport? Call the Labelmaster Regulatory Hotline at 1.800.621.5808.
---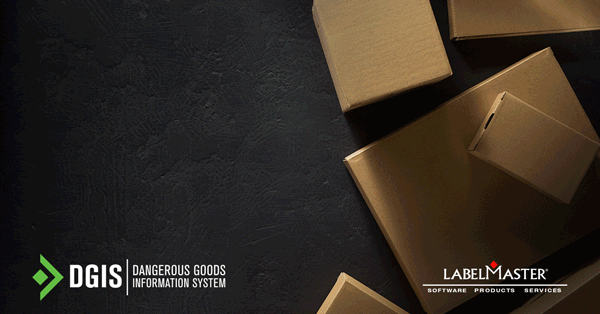 You don't have to be tech savvy to use the industry's most robust, flexible, and advanced hazmat shipping software. DGIS is so simple to use, it makes your job easier—while it helps keep your shipments from being rejected by carriers or regulators.
See for yourself! Tell us a particular UN Number you ship and we'll create a quick personal video of DGIS making it simple.

---