Week of February 21, 2022
Linking supply chain news with dangerous goods compliance
The supply chain has become increasingly data-driven. Whether it's improving visibility, identifying trends, driving automation or another business benefit, data is at the core of today's supply chain strategies and technologies.
Let's examine some recent industry news.
---
SUPPLY CHAIN NEWS
Operationalizing AI Through Intelligent Data: Digital technologies such as AI and machine learning run on data, which makes timely and accurate data collection, validation, management and analysis fundamental to advancing digital optimization strategies.
The Supply Chain Data Gap Must Be Closed: The pandemic exposed the gaps in our supply chains – and in the data buried in them. Oracle thinks its latest Fusion Cloud Supply Chain functionality can help.
Big Data Transform Logistics, Supply Chain Management: Some logistics and supply chain managers say that conditions would be even worse if these functions weren't supported by emerging technology that is transforming logistics management. The technology is all about data.
---
OUR PERSPECTIVE
Data is a necessity. Without proper data, no technology can work to its fullest potential – making access to, and communication of, timely and accurate data imperative. Unfortunately, data accuracy, completeness and reliability are challenging. In a recent survey of DG professionals, 45% said data collection within their own organizations is "sporadic, inconsistent or not done at all," while 55% felt that way about their supply chain partners' data collection efforts.
Master data impacts the entire supply chain. A product's components, makeup, dimensions and origins impact every process required for safe and compliant DG shipping – including packaging, labeling, documentation, permits and transport of goods. As result, lack of knowledge around what a business is shipping has a profound ripple effect on the supply chain and customer experience.
Data must be shared. Having complete, accurate master data is key to streamlining compliant hazmat transport and unlocking efficiencies across all the locations and departments in your organization. Look to better absorb data into your supply chain – from suppliers and logistics providers to other departments within your organization such as product management or procurement. Don't just assume everyone has access to this information or knows how to handle DG shipments, even if they have warehousing or shipping software in place.
To learn more about Dangerous Goods software or how to establish a safer, more compliant supply chain, visit https://www.labelmaster.com.
Have questions about Dangerous Goods transport? Call the Labelmaster Regulatory Hotline at 1.800.621.5808.
---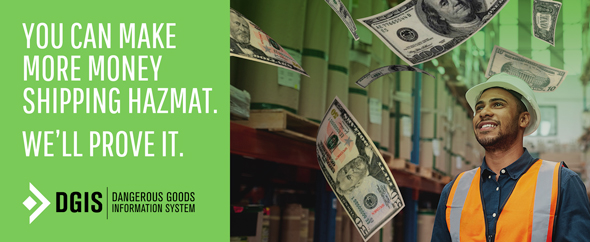 As the industry's most robust, flexible, and advanced hazmat shipping software, Labelmaster's DGIS can actually help your operation make more money. DGIS validates shipments and prepares DG declarations so quickly, you can handle more shipments every hour. And more shipments mean more revenue.
Try your own numbers in our calculator to see the added revenue DGIS can generate for you.

---