Week of January 10, 2022
Linking supply chain news with dangerous goods compliance
2022 is in full swing, and so is the post-holiday return season. The influx of return shipments adds yet another supply chain challenge as businesses are trying to navigate the effects of winter storms, labor shortages, rising COVID cases and more.
Let's examine some recent industry news.
---
SUPPLY CHAIN NEWS
---
OUR PERSPECTIVE
Compliance matters for return shipments too. The growth of online shopping has brought with it a significant increase in reverse logistics activity on both the consumer/store side and the store/manufacturer side. While this uptick in return activity itself is challenging, it becomes even more problematic when returns involve hazmat, such as devices containing lithium batteries. Return shipments must comply with the same hazmat rules as items shipped to consumers in the first place, and it's the shipper's responsibility to ensure compliance.
Need for better returns management. Without a well-orchestrated and standardized returns management process, organizations risk non-compliance, operations backlogs and customer dissatisfaction. Unfortunately, many of those responsible for handling DG lack confidence in their organizations' ability to successfully manage the reverse logistics process. In fact, a global survey found that only 20% believe existing end-to-end processes and management around reverse logistics are more than adequate to ensure DG materials are returned in a safe and compliant manner.
Returns aren't just a holiday season problem. As e-commerce continues to grow, an increasing number of DG will enter the reverse logistics supply chain. And while the volumes won't always be as high as they are following the holiday season, the rules (and associated challenges) will remain. Now is the time to formalize and streamline returns management operations, integrating safety protocols and customer and employee education into the process.
To learn more about Dangerous Goods software or how to establish a safer, more compliant supply chain, visit https://www.labelmaster.com.
Have questions about Dangerous Goods transport? Call the Labelmaster Regulatory Hotline at 1.800.621.5808.
---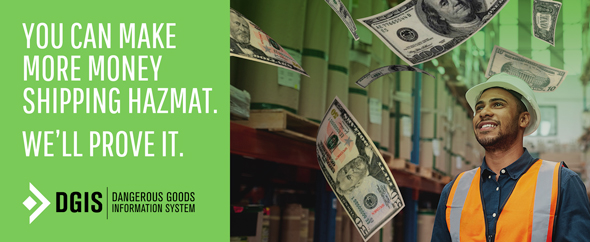 As the industry's most robust, flexible, and advanced hazmat shipping software, Labelmaster's DGIS can actually help your operation make more money. DGIS validates shipments and prepares DG declarations so quickly, you can handle more shipments every hour. And more shipments mean more revenue.
Try your own numbers in our calculator to see the added revenue DGIS can generate for you.

---