Week of January 18th, 2021
Linking technology news with Dangerous Goods compliance
As organizations look to address gaps within their supply chains over the next year (and beyond), they must recognize how the global landscape is changing and the role technology will play in any new strategies they want to implement.
To help companies keep a pulse on technology trends impacting business and the movement of dangerous goods throughout the supply chain, Labelmaster has launched "Supply Chain Moves," a bi-weekly report linking the latest technology news to dangerous goods compliance.
Let's examine the recent supply chain technology and industry news.
---
TECHNOLOGY
Tips for Modernizing Your Factory: Using technology to modernize manufacturing facilities will both help companies run efficiently and protect against cybersecurity threats.
4 Technologies Coming to the Supply Chain: When utilized properly, tech can be a great way to insulate yourself from some financial risk. Here's how to find a new type of technology to invest in and help ensure long-term financial success in what's sure to be a year full of uncertainties.
---
3PL TECH
Interoperability Should be Supply Chain Tech's Sole Tech Focus in 2021: Interoperability is key to a connected supply chain of expert management and consistency, end-to-end visibility and optimization, and interoperability is the necessary goal in logistics technology due to one root cause: a single transportation management system is not suited to serve every party optimally.
---
Technology & Dangerous Goods Compliance
For many organizations, the COVID-19 pandemic has brought to light shortcomings within their supply chain, and underscored the need for further investment in technology to order or help streamline processes increase visibility and run their businesses more profitably.
In a recent Supply & Demand Chain Executive article, OpsVeda's Vikas Rajput highlights the need for supply chain managers to prioritize their time, investments and strategies in order to make impactful changes moving forward. One key strategy is automating manual tasks in order to get more out of processes and workers, but stresses the importance in strategic thinking and not just throwing in a solution and expecting it to work. Rajput also highlights the need for risk and response management, stating that companies need to identify "value leaks" within their operations and then use data to make informed decisions.
Like with other parts of the supply chain, the COVID-19 pandemic helped shine a spotlight on areas of DG management that must be addressed within many organizations – specifically those related to data accuracy and completeness, as well as those related to more effective tools for training team members remotely.
According to a recent survey of DG pros, 88% of respondents said "accurate and complete DG shipment data" is important to the future of their organization, while 74% said the same about "more effective remote DG training." As DG organizations move forward and prioritize resources and investment, they should focus on the following areas when creating a path to better DG management:
Effective remote training – Understand the value and shortcomings of your current training, including what changes are needed to deliver effective training to company personnel quickly and remotely.
Data access and communication – Identify if timely and accurate DG data is collected, and how it's shared both internally and with supply chain partners.
Shipping DG will only become more difficult as supply chains become increasingly complex and regulations continue to evolve. In order to ensure regulatory compliance and maintain a smooth, resilient supply chain (especially when facing disruptions), companies must invest in adequate compliance technology, training and infrastructure. Otherwise, they put their supply chain – and their business – at risk.
To learn more about dangerous goods software or how to establish a safer, more compliant supply chain, visit https://www.labelmaster.com.
Have questions about dangerous goods transport? Call the Labelmaster Regulatory Hotline at 1.800.621.5808.
---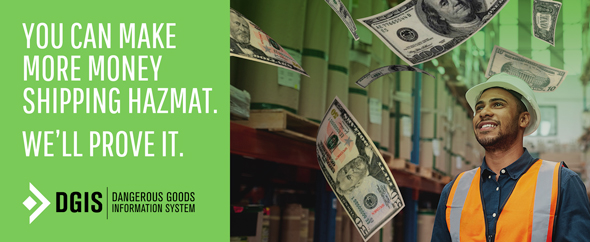 As the industry's most robust, flexible, and advanced hazmat shipping software, Labelmaster's DGIS can actually help your operation make more money. DGIS validates shipments and prepares DG declarations so quickly, you can handle more shipments every hour. And more shipments mean more revenue.
Try your own numbers in our calculator to see the added revenue DGIS can generate for you.

---