Week of March 1st, 2021
Linking technology news with Dangerous Goods compliance
As global commerce continues to evolve, traditional supply chain processes – from shipping documentation and training to capacity pricing and order fulfillment – must also change in order to keep pace.
To help companies keep a pulse on technology trends impacting business and the movement of dangerous goods throughout the supply chain, Labelmaster has launched "Supply Chain Moves," a bi-weekly report linking the latest technology news to dangerous goods compliance.
Let's examine the recent supply chain technology and industry news.
---
TECHNOLOGY
How Technology Supports Retail Supply Chains: Technology will make room for increased flexibility and more options within the delivery cycle, not only helping to offset some of the pressure the supply chain faces but also to help improve operations for retailers.
Autonomous Supply Chains Are on the Horizon: Supply chains have increasingly come to rely on automation to improve efficiency and resiliency, but still, very much involve hands-on assistance from people. A more "people-less" supply chain allows humans to monitor the whole process while every step is run autonomously.
---
3PL TECH
---
Technology & Dangerous Goods Compliance
Shipping dangerous goods is highly regulated and can be extremely complex, which is why quality training is so crucial. Unfortunately, many organizations find their training insufficient and ineffective. According to Labelmaster's annual DG Global Confidence Outlook survey:
71% of DG pros indicate training is the primary activity used to keep up with regulatory updates, yet 25% are not confident the training program they currently use adequately prepares their teams to comply with the regulations
Nearly 1 in 5 DG pros state their greatest DG-related challenge is insufficient or ineffective training
42% of DG pros would invest in more effective training if their senior leadership offered more financial resources
74% of DG pros agree more effective remote training is needed to adapt to today's current environment
To help address this gap, Labelmaster created its new 3D Online Training Experiences, which provides more interactive, real-life training to supply chain professionals responsible for shipping hazmat. The game-like experiences immerse trainees in a virtual warehouse where they must make real-time decisions and confront real-world challenges as they attempt to safely and compliantly ship flammable liquids or lithium batteries, including:
Locating and reading shipping instructions
Selecting outer packaging and inside packaging components
Selecting and applying appropriate labels and markings to the box
Selecting correct bill of lading or shippers declaration
Now any organization, whether they are looking to elevate their DG management program for a competitive advantage or looking to create a basic program to comply with training mandates, can leverage these best-in-class training methods to confidently enable safer and more compliant DG handling throughout the supply chain.
To learn more about Labelmaster's 3D training experiences and view a short video, visit www.labelmaster.com/3d-dg.
To learn more about dangerous goods software or how to establish a safer, more compliant supply chain, visit https://www.labelmaster.com.
Have questions about dangerous goods transport? Call the Labelmaster Regulatory Hotline at 1.800.621.5808.
---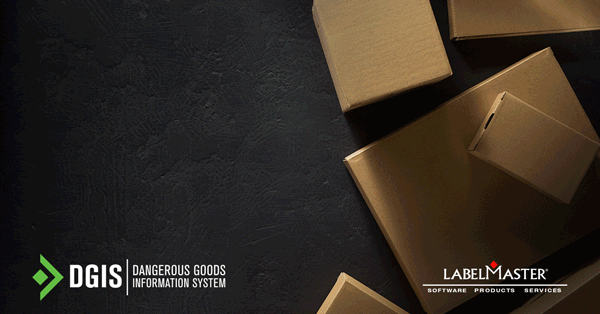 You don't have to be tech savvy to use the industry's most robust, flexible, and advanced hazmat shipping software. DGIS is so simple to use, it makes your job easier—while it helps keep your shipments from being rejected by carriers or regulators.
See for yourself! Tell us a particular UN Number you ship and we'll create a quick personal video of DGIS making it simple.

---