Week of November 15th, 2021
Linking supply chain news with dangerous goods compliance
The past year and a half has highlighted the critical role the supply chain plays in our daily lives. It has also showcased the need for further investment – both as an industry, entire countries and within individual organizations.
Let's examine some recent industry news.
---
SUPPLY CHAIN NEWS
How to Fix the Supply Chain: Consumers and businesses alike are frustrated by long delays for a range of products. To solve the problem, two things need to happen.
---
OUR PERSPECTIVE
Investment is needed across the supply chain. The supply chain is connected and, consequently, every aspect of it can be a potential roadblock. Addressing gaps within the supply chain requires both investments across the industry and countries, as well as within individual companies. Organizations must invest in their technology infrastructure and people, and implement efficient, transparent and compliant processes that support a better global supply chain.
DG compliance cannot continue to be overlooked. While most attention (and budget) is being given to newer advancements such as blockchain and AI, or the larger, established operations systems such as ERP, WMS and TMS, compliance cannot continue to be overlooked as it has been in the past. In fact, the growth of e-commerce, omni-channel supply chains along with expanding regulations has made compliance more important than ever.
Make compliance a key component of your supply chain infrastructure. Compliance has a significant impact on the global supply chain. Not having the adequate infrastructure in place (whether that's technology, training, visibility or processes) can cause delays, decrease efficiency and put customer relationships and your bottom line at risk. Investing in your compliance infrastructure, and integrating it with other systems, will help organizations improve operational efficiency, reduce operating costs and help maintain a smooth supply chain.
Can technology help you survive today's supply chain? Learn more on a December 2nd webinar from Pierbridge and Labelmaster: How Technology Can Mitigate Hazmat Risk and Maximize Fulfillment Efficiency.
To learn more about Dangerous Goods software or how to establish a safer, more compliant supply chain, visit https://www.labelmaster.com.
Have questions about Dangerous Goods transport? Call the Labelmaster Regulatory Hotline at 1.800.621.5808.
---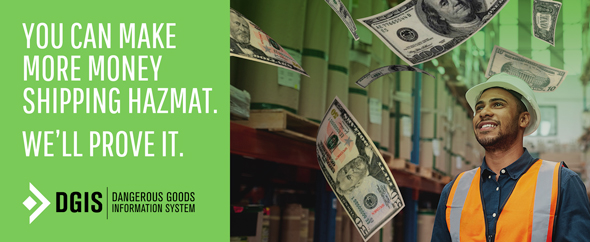 As the industry's most robust, flexible, and advanced hazmat shipping software, Labelmaster's DGIS can actually help your operation make more money. DGIS validates shipments and prepares DG declarations so quickly, you can handle more shipments every hour. And more shipments mean more revenue.
Try your own numbers in our calculator to see the added revenue DGIS can generate for you.

---