Week of September 20th, 2021
Linking supply chain news with dangerous goods compliance
In preparation for a busy holiday shopping season, retailers and carriers are working hard to fill open jobs across the supply chain.
Let's examine some recent industry news.
---
SUPPLY CHAIN NEWS
---
OUR PERSPECTIVE
Training matters. For many companies, hazmat training is the single (and only available) resource for building and maintaining compliance. This puts a tremendous amount of pressure on the training to effectively achieve some critical tasks. Unfortunately, for many organizations, their DG training is insufficient and ineffective – putting them at risk of serious operational, financial and environmental ramifications as a result.
Training seasonal employees cannot be overlooked. Hiring part-time, seasonal workers is one challenge, but ensuring they're properly trained and prepared to comply with DG shipping regulations is another. In many cases, seasonal workers are not fully trained and are unaware that they're shipping hazmat with additional packaging, labeling and transport requirements. Failure to train employees and put appropriate procedures in place can subject companies to the threat of penalties, lawsuits, employee injury and shipping delays.
Training programs must evolve. Organizations must continue to adapt their training progress to keep pace with the changing business environment – a fact spotlighted during the COVID-19 pandemic. Online eLearning can provide cost-effective remote DG training that is engaging and can be tailored to the specific roles of the employees being trained. This approach can positively impact operations and ensure employees (even part-time or seasonal workers) are properly trained and ready to comply with hazmat shipping rules.
To learn more about dangerous goods software or how to establish a safer, more compliant supply chain, visit https://www.labelmaster.com.
Have questions about dangerous goods transport? Call the Labelmaster Regulatory Hotline at 1.800.621.5808.
---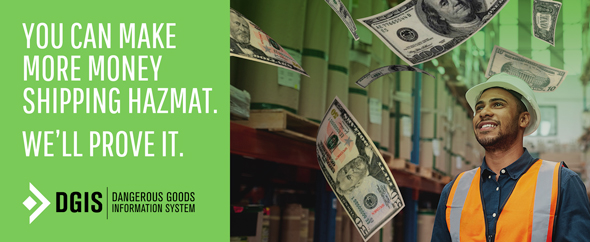 As the industry's most robust, flexible, and advanced hazmat shipping software, Labelmaster's DGIS can actually help your operation make more money. DGIS validates shipments and prepares DG declarations so quickly, you can handle more shipments every hour. And more shipments mean more revenue.
Try your own numbers in our calculator to see the added revenue DGIS can generate for you.

---