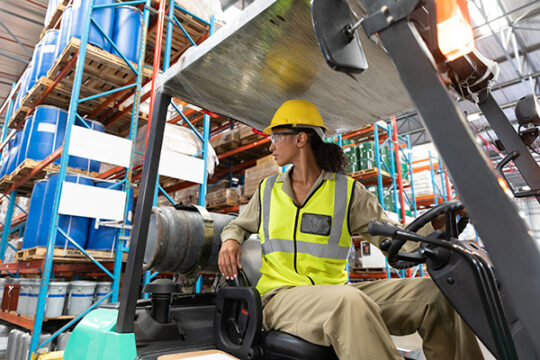 There has never been a bigger holiday season for e-commerce. And that means this will also be the biggest holiday season ever for e-commerce returns.
Here are the startling stats:
"Not only are more products being purchased and returned online," says Labelmaster Director, Regulatory Affairs and Corporate Responsibility Brian Beetz, "more of them are electronics and technology items that contain hazardous components, including lithium batteries."
Compliantly transporting Dangerous Goods such as large format lithium batteries this holiday season is complicated enough. But e-commerce manufacturers and distributors have to have well-defined processes for compliant reverse logistics, because compliance gaps on returns can be costly in more ways than one.
Frustrated returns make for frustrated customers
Every Dangerous Goods shipment carries the risk of being frustrated by compliance gaps—errors in labeling, packaging and/or documentation. As the shipper, you're responsible for getting those details right. A frustrated shipment can be delayed, returned to you or even confiscated, which is why frustrated shipments can deal a huge blow to your operation's profitability.
Return shipments of Dangerous Goods are subject to the exact same regulations as outbound shipments, which means they can be frustrated by the exact same errors. But here's the hitch—with returns, your customer is the shipper, so they're responsible for shipping those items back to you compliantly.
That's why every e-commerce retailer who sells any regulated items whatsoever should ask themselves these three questions:
Are my customers trained to ship hazmat compliantly? Of course not.
Will my customers be understanding if their refunds are delayed due to frustrated return shipments? Almost certainly not.
Will my customers shop with me again if they find my return process unsatisfactory? Surveys indicate that up to 60% of shoppers say a negative return experience can deter them from shopping with a brand again.
In short, frustrated return shipments can hurt both your bottom line and your customer loyalty, so you need to make it super-easy for your customers to compliantly return Dangerous Goods items to you.
4 core ideas for compliant lithium battery returns
All sorts of common e-commerce items are classified as hazmat—from teeth whiteners to paint to nail polish to alcoholic beverages—but the one that's most likely to give e-commerce shippers headaches is lithium batteries.
The best way to make sure your customers can compliantly return lithium battery purchases is to have a comprehensive, well-defined returns management process in place. Beetz recommends four core concepts you can include. Each is a good idea by itself, but your best bet is to combine all four:
Education: Make sure your customers are aware that rules exist and give them all the guidance they need to return their products compliantly.
Making it easy: When a customer requests a return, send them compliant return packaging with all the labels and marks they'll need.
Customer service preparation: Train your customer service reps to answer the inevitable questions customers will have about their return shipments.
A solid ground game: Be sure all return shipments are made via ground shipping, where regulatory exceptions make compliance far easier than with air transport.
If you need help setting up a returns management process tailored to your operation, it's always a good idea to speak with an expert.
Be ready for recalls, too
Another type of return which ecommerce shippers should be ready for is the dreaded recall. These returns typically come from retailers and distributors, not consumers, but your concern is the same. In case of a recall, you need to make it as easy as possible for your partners to compliantly return your Dangerous Goods to you.
That means being prepared before a recall happens. Have an advance plan for notifying your partners and fielding the inevitable surge of urgent questions. And when lithium battery devices are involved, make sure you send partners packaging specifically designed for damaged, defective and recalled lithium-ion batteries.
Long story short, if you want to avoid the costs and complications of non-compliant Dangerous Goods returns, advance preparation will help you help your customers get it right.
Make sure your shipments are safe and in complete compliance with a full line of solutions from Labelmaster—a full-service provider of goods and services for hazardous materials and Dangerous Goods professionals, shippers, transport operators and EH&S providers.